By some accounts, Wolfgang Amadeus Mozart was a rock star. Take these lyrics from Austrian pop singer Falco's 1986 hit "Rock Me Amadeus":
He was the first punk ever
To set foot on this earth
He was a genius from the day of his birth
His mind was on rock and roll and having fun
Because he lived so fast he had to die so young
"This is a Hollywood story," says Paul Laird, a musicology professor at Kansas University. "The tragic early death - it has all of those hallmarks, and I think that's one reason people are so interested in him."
And then there's the music.
Mozart wrote nearly 630 sonatas, concertos, operas, ballets, masses, symphonies and other works - a prodigious number for someone who died just shy of his 36th birthday. And the music is almost universally regarded as extraordinary.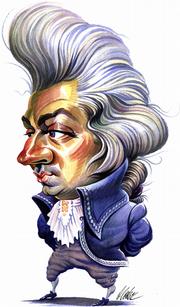 So whether or not classical music falls anywhere near your definition of rock 'n' roll, Mozart is getting celebrity treatment in Lawrence and around the world this year to mark the 250th anniversary of his birth.
(Had the composer lived as long as it might have taken most people to write the amount of music he churned out in his short lifetime, he'd be 250 on Friday.)
In Salzburg, Austria - the composer's hometown - stores are stocked with Mozart beer and wine, Mozart baby bottles, Mozart umbrellas and even Mozartwurst, a sausage of beef, pork and pistachios created by a local butcher.
Closer to home, KU has planned a series of concerts, talks, radio broadcasts and operas throughout the spring semester. The series, dubbed WAM Fest, kicks off in earnest on Friday with the first of three consecutive nights of recitals by 19 KU students, who will play all 19 of Mozart's piano sonatas.
Piano professor Jack Winerock thinks this is the first time students have played the entire sonata cycle, and even professionals who have tackled the set have done so over a longer period of time. The students learned the pieces last semester and will play without scores.
Test your Mozart IQ
1. How many Mozart compositions survive? a. 124 b. 405 c. 627
2. Wolfgang and his sister Marie Anna were the only two children of how many to survive infancy? a. 5 b. 7 c. 12
3. Mozart was born Jan. 27, 1756, in what city? a. Salzburg b. Monaco c. Morocco
4. How long did it take Mozart to learn his first composition, just three days before his fifth birthday? a. two weeks b. one day c. 30 minutes
5. Which of the following is not a Mozart opera: a. "The Marriage of Figaro" b. "Don Giovanni" c. "La Traviata"
Mastering Mozart is critical for young musicians, Winerock says.
"Mozart has the fewest notes, so the challenge is to make music with the fewest notes come alive. Which is in contrast, let's say, to Rachmaninoff, who has an incredible amount of notes, and the challenge for the musicians is to put certain notes in the background so the listener can get the main message," he says.
"There is no better composer than Mozart to make sure that students are very musical, because if you play Mozart without life and without explanation, it can be very boring."
Prodigious, but regular
Mezzo-soprano Joyce Castle, who has sung roles in Mozart's "The Magic Flute" and "The Marriage of Figaro" for New York City Opera and Santa Fe Opera, finds nothing boring about the composer's works for voice.
"Mozart operas connect because he has such human characters. The music is sublime, of course, but to me it's just a very special connection of words and music," says Castle, a KU voice professor. "And it has a spiritual quality. It raises me to a higher level."
Mozart knew he had that effect on people - that he was immensely talented, says musicologist Paul Laird. And how could he not? Born in 1756 to violinist Leopold Mozart and his wife, Anna Maria, Wolfgang had mastered the clavier by age 3 and composed minuets by age 6.
Writing music came easily to him, says Laird, who recounts a story of Mozart composing while playing billiards.
"He'd go take a shot, and then he'd go back to the table. He was writing the orchestration to something with no draft," Laird says. "He'd write the flute part in, then the oboe part, then the clarinet part. He'd go right down the score, and then he'd start up again and go right back down the score.
"That's a sense of musicality that very, very few people have had."
And yet, when you read his letters, he comes across as an everyday fellow. He was "jealous of other people's success, telling dirty jokes, assuring his father that he will make a great effort," Laird says.
"The more you get to know about him, the more he seems like a regular guy. And then you come back to this output. It's kind of hard to reconcile sometimes."
Still resonating
Of course it's not the number of works Mozart produced that makes him arguably the most popular composer of all time, even 250 years after his death.
It's the melodies and the variety.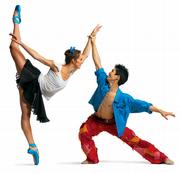 "I'll bet that either morning, afternoon or evening, Mozart gets played at least once every day, and maybe more than once," says Rachel Hunter, music director at Kansas Public Radio, who confesses to loving the composer's music. "I love it as much as I love Bach. If you're going to be stuck on an island and you wanted something, it probably should be one of those two guys."
Certainly Mozart's influence hasn't waned through the centuries. Consider "The Mozart Effect," a body of research that suggests exposing infants - and adults, for that matter - to the composer's tunes can increase intelligence and creativity. The sons of ailing Israeli leader Ariel Sharon have been playing Mozart and Israeli folk tunes at his bedside, hoping he'll show some reaction. It's not uncommon to hear some variation of "Eine Kleine Nachtmusik" or the "Rondo alla Turca" from Sonata No. 11 while watching television or shopping for groceries.
And the music still resonates with young musicians just learning their craft.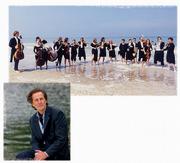 "I very much enjoy studying Mozart. It's very rewarding both to listen to and to play," says Nicholas Susi, a KU freshman from St. Louis, who will perform Mozart's Sonata No. 10 in C Major during Saturday evening's student recital. "It's very difficult to study, of course, because of its beautiful simplicity. It's the simplest music, but it's the hardest music because it has to be perfect."
Mozart died Dec. 5, 1791 - just seven days before his 36th birthday - and was buried in a pauper's grave in Vienna. Despite conspiracy theories, scientists says rheumatic fever claimed his life. But his legacy endures.
"It's nice when we take these opportunities to honor someone 250 years after their birth," Laird says. "I must say, with Mozart I think people should not only take that kind of opportunity to get to know his music, but any opportunity."
Quiz answers
Answers: 1, c; 2, b; 3, a; 4, c; 5, c
Copyright 2018 The Lawrence Journal-World. All rights reserved. This material may not be published, broadcast, rewritten or redistributed. We strive to uphold our values for every story published.