Call it Boog vs. Bush.
City commissioners soon will have a chance to do something the federal government won't do: agree to abide by the key provisions of the Kyoto Protocol, an international treaty aimed at reducing the greenhouse gases considered a prime cause of global warming.
"The health and well-being of our children and grandchildren really depend on this," Lawrence Mayor Boog Highberger said. "The U.S. government has failed to take the lead on the issue, and like so many issues the cities are going to have to."
Lawrence may get its chance through a program that members of the local Sierra Club are pitching to city leaders. The program, dubbed Cool Cities, aims to get cities to pledge to reduce their greenhouse gas emissions by 7 percent compared with where they were in 1990. Cities are asked to reach the 7 percent reduction by 2012.
That essentially is the key - and controversial - provision in the Kyoto Protocol. The U.S. Senate failed to support the agreement during the Clinton administration, and President Bush has opposed it, saying it does not treat all nations fairly and could hurt U.S. industry.
But that hasn't stopped U.S. cities from pressuring the federal government to act. Through the U.S. Conference of Mayors, 179 cities have agreed to voluntarily reduce their own emissions.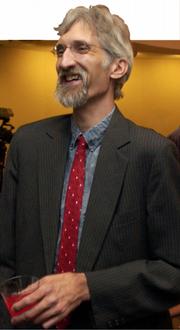 Highberger wants Lawrence to be next on the list. He's asked the city's Recycling and Resource Conservation Advisory Board to review the program. It informally has agreed to recommend the project and is expected to give formal recommendation to city commissioners in the next month or so.
"It makes a lot of sense to me," said Highberger. "It is becoming pretty clear to me that we're experiencing global warming. I know weather changes from year to year and some people are skeptical, but the data is getting deeper every year."
Setting an example
The program Lawrence is considering has one major difference from the Kyoto Protocol: It doesn't put new mandates on local industries.
The pledge that Sierra Club members are asking the city to make would be for city government to reduce its greenhouse gas emissions by 7 percent, not reduce the overall community's emissions by that amount. There are also no fines or penalties to pay if the city doesn't reach the goal.
What the program likely would mean is that city government would need to become more conscious of the energy it uses in city buildings and utilities and the fuel it burns in city vehicles.
"If the city sets a good example, I think that will help convince citizens to change some of their practices," said Michael Campbell, chair of the Wakarusa Group of the Kansas Chapter of the Sierra Club. "A lot of these changes are pretty simple. The more people are aware of the solutions, the more they'll start looking into them for themselves.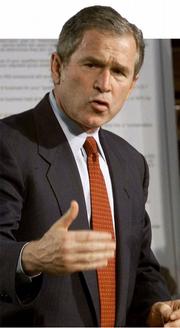 "Even if people just started seeing more city employees driving hybrid vehicles, that would do a lot to get people thinking."
The program also encourages cities to come up with incentives to convince citizens to change their behavior. For example, some cities are allowing drivers of hybrid vehicles to park for free.
Spend more?
But the proposal does have potential to touch off debate. Steps needed to reduce greenhouse emissions could require the city to spend more, especially in upfront costs, than if the status quo were continued.
Adding more hybrid vehicles to the city's fleet is an example. The city currently has three hybrid cars, all Toyota Priuses, which are used by the city's building inspectors and the parking department. But the city continues to buy conventional pickups and SUVs for departments such as Public Works and the Fire & Medical Department.
The city has operated under an informal policy that requires the additional purchase price for a hybrid be made up for in fuel savings during the 10-year life of a vehicle.
In the case of the Toyotas, the city has determined that is possible. But with the larger vehicles, their hybrid equivalents can cost $10,000 to $12,000 more. Even with gas at $2.25 a gallon, the fuel savings of a big hybrid won't cover the initial additional purchase price, said Chris Stewart, the city's central garage superintendent.
But that leaves city commissioners to ponder what price do you put on helping the environment?
"I think it would be reasonable to pay somewhat more for doing the right thing," Highberger said. "How much more, though, really is the big question."
City Commissioner David Schauner said he's not sure he's ready to start spending extra dollars, but he suspects the city could find ways to conserve energy if it looked harder.
He said even if hybrids weren't yet cost-effective, the city should look hard to ensure every city employee who had a pickup really needed a pickup instead of a compact car.
"We need to make sure that we're in the 21st centuryon this issue," Schauner said. "I'm not sure I understand all our rationale at times."
One other cost issue could be a stumbling block for the proposed program. In order to participate, the city needs to know what its emission levels were in 1990. That would mean hiring a consultant to examine past fuel bills, electrical usage and other factors that contribute to greenhouse gas emissions.
Highberger said he didn't know how much that would cost for Lawrence, but he does know of cities spending more than $100,000 to get it done.
"The cost of the survey is a concern," Highberger said. "There's a part of me that would just rather spend the money on things that I know will reduce our emissions."
But Campbell, with the Sierra Club, said he hoped the city would find a way to participate in the program because he thought it would help draw attention to the issue.
"Unfortunately, when some people hear about conserving energy, people think we're going to have to revert to some kind of Third World lifestyle," Campbell said. "The city could do a lot to dispel that notion."
Copyright 2018 The Lawrence Journal-World. All rights reserved. This material may not be published, broadcast, rewritten or redistributed. We strive to uphold our values for every story published.