An early-morning fire Friday that damaged a Lawrence house and injured one resident was caused by improperly discarded smoking material, fire investigators determined.
A still-burning cigarette or some other smoking material was left on a bed and set the coverings on fire, Fire Marshal Rich Barr said. Damage to the house at 1322 Mass., which is occupied by three men, was estimated at $30,000, he said. Most of the damage was confined to the second floor.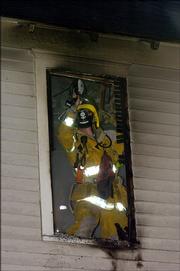 One man was taken to Lawrence Memorial Hospital by ambulance, but his condition was unavailable. His name wasn't being released because of federal medical information rules, Barr said. He did say the injuries were not thought to be life-threatening. The injuries were caused by burns and smoke inhalation, Barr said.
Lawrence-Douglas County Fire & Medical responded to the fire, above, at 7:18 a.m. The 1300 block of Massachusetts Street was barricaded to traffic until about 9:15 a.m.
The Douglas County chapter of the American Red Cross is assisting the victims.
Copyright 2018 The Lawrence Journal-World. All rights reserved. This material may not be published, broadcast, rewritten or redistributed. We strive to uphold our values for every story published.