If a regional bank executive can be convinced to take the stage dressed as goofy British secret agent Austin Powers, perhaps anything is possible.
That's the attitude Mike Maddox carried into his role Friday night for the Lawrence Chamber of Commerce's annual meeting, and intends to maintain through 2006 as the organization works to promote development of new business parks, support creation of new jobs and foster growth of an overall community vision.
"I'm glad to say the economic health of Lawrence and Douglas County is groooooovy, baybeeeeee," said Powers - er, Maddox - to laughs from the crowd of nearly 500 chamber members and guests at Liberty Hall.
The meeting's theme, "Mission: Possible," set the stage for Maddox - chairman of the Lawrence-Douglas County Economic Development Board and northeast region president for Intrust Bank - and other community notables to don alter egos in a lighthearted play for success:
l Former Mayor Marty Kennedy, an owner of Kennedy Glass, as MiniMe to Maddox's Powers.
l Chuck Warner, president of US Bank in Lawrence, as "Charlie" leading a team of high-powered "Angels": Marilyn Bittenbender, Dee Bisel, Joan Golden and Jean Milstead, all previous winners of the chamber's Athena Award.
l Pat Flavin, president, managing broker and co-owner of Lawrence Realty Associates, sporting a tuxedo in arriving as "Agent 006," an homage to the Sean Connery-style James Bond.
All of the acting, Flavin said offstage, allowed community leaders to embrace an upbeat approach for the important work ahead.
"This is going to be a fun year," said Flavin, formally welcomed Friday as this year's chamber chairman, taking the case from Shirley Martin-Smith. "It's a lively group, and this is what Lawrence ought to be: fun, lively and always just a little bit different."
Friday's event also included two award presentations.
Dolph C. Simons Jr., editor of the Journal-World and chairman of The World Company, received the chamber's Citizen of the Years Award, recognizing a lifetime of commitment to the Lawrence community.
Simons, 75, is a graduate of Lawrence High School and Kansas University. As leader of The World Company - which owns the Journal-World, Sunflower Broadband and several area newspapers - he leads operations that provide news and information, cable television, telephone and Internet services to Douglas County and several neighboring communities in northeast Kansas.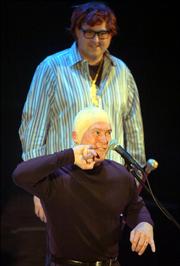 He has been named outstanding Kansas newspaper publisher by the KU chapter of Kappa Tau Alpha, a journalism honor society. He has served as a juror for the Pulitzer Prize, and is a former president of the Kansas Press Assn., former president of the board of the William Allen White Foundation, former president of the Kansas Associated Press board of directors, has served on numerous national press organization boards, and last year was recognized by the Cable Television Center as a "pioneer" in the cable television industry.
Simons is a member of the Kansas Bioscience Authority, and serves as chairman of the Lied Board of Governors, which helps oversee the Lied Center at KU. He previously served the KU Endowment Association as an officer, trustee and chairman; the KU Alumni Association as a board member and national president; the Haskell Foundation as a trustee; Lawrence Memorial Hospital as a board member; the chamber as chairman; and Lawrence Rotary Club as president.
Simons' father, Dolph Simons Sr., received the Citizen of the Years Award in 1985.
This year's Athena Award went to Sue Morgan, vice president of the Lawrence school board and retired business administrator for First United Methodist Church in Lawrence. The award, sponsored by the chamber and Crown Chevrolet/Scion/Toyota, recognizes initiatives in women's leadership and female-owned businesses.
Morgan, a former school board president, was elected to her second four-year term in April 2003, and has served as a board member for the United Way of Douglas County and the chamber's Leadership Lawrence program. She retired from the church in 2004, after 13 years overseeing its finances, facilities, personnel and information systems.
Copyright 2017 The Lawrence Journal-World. All rights reserved. This material may not be published, broadcast, rewritten or redistributed. We strive to uphold our values for every story published.