Books and computers are fine, but a when it comes to getting - or providing - a well-rounded education, there's nothing better than a dose of real-world experience.
It's one thing to read about how a bank works, but it's quite another to set up an account, borrow money, pay it back and figure out whether you came out ahead.
In Lawrence, that's why several lending institutions and the public schools have started "mini banks" aimed at giving students real, hands-on experience with money.
"It's a great learning experience," said Sarah Klingele, director of Lawrence Education Achievement Partners, a program intent on finding ways for businesses and schools to interact.
LEAP, a project of USD 497 and the Lawrence Chamber of Commerce, put Central National Bank together with Sunflower School.
"It's very rewarding," said Betty Markley, business development officer at Central National Bank.
The arrangement:
¢ The bank loans classes small amounts of money, which the students use to buy goods sold during the school's "Holiday Bazaar." Afterward, the classes calculate their profits and pay off the loan, including interest - one dollar, usually.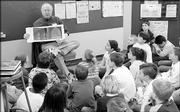 (The interest is given back to the school).
¢ Once a month, bank employees read to Sunflower School students.
¢ On special occasions, students supply the bank with artwork.
"Interacting with the kids is so much fun - they just love having new people come into class," Markley said. "They are so full of enthusiasm, it's really refreshing to be with them."
All of the bank's employees - from president to tellers - read to students.
"The reading program has been going since 2001," Markley said. "We do the banking program every other year."
Shortly before Christmas, Central National Bank provided in-school massages for teachers.
"I don't know how to explain it - it makes us feel good to do things for other people, to be a positive role model for children, to show them that volunteerism is alive and well and important," Markley said.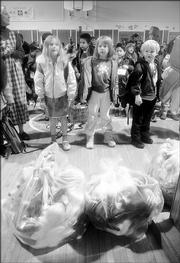 LEAP partnerships are not restricted to banks or banking, or limited to one business interacting with one school..
Cici's Pizza, for example, gives the district's middle-school students a shot at real-world job interviews and lets them "shadow" current employees.
"A teacher brings in 16 kids every quarter, and we put them through the job-interview process just like we would anybody else," said CiCi's Pizza district manager Hal Sasko.
Successful applicants get to shadow regular employees for a couple of hours one afternoon a week.
"It gives them an idea of how to apply for a job and then what's expected of them," Sasko said.
Other partnerships:
¢ Commerce Bank hosted an ice cream social for parents and students at West Junior High School.
¢ Borders has displayed artwork and sponsored poetry readings by Schwegler School students.
¢ First State Bank and Trust hosted its annual welcome-back barbecue for Free State High School students and teachers.
¢ Lawrence Memorial Hospital staff put on demonstrations in several science classes throughout the district.
¢ Members of Kiwanis, Optimist and Altrusa clubs read to students at New York School.
"There are all kinds of partnerships that can be put together," said LEAP director Klingele. "I know people look at their business or their jobs and say, 'Oh, there's nothing I do,' but just about everybody has something - time or resources - they can offer."
Would-be partners are encouraged to call Klingele at the school district's central office, 832-5008.
Copyright 2018 The Lawrence Journal-World. All rights reserved. This material may not be published, broadcast, rewritten or redistributed. We strive to uphold our values for every story published.