A mix of winter precipitation - mist, drizzle, rain, sleet and snow - is moving into the Lawrence area today, making roads slippery for drivers. And by the time it's over tonight, there could be an inch of snow on the ground.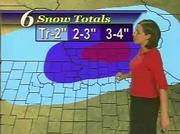 At 4:30 p.m., Lawrence was foggy and misty, the temperature was 33 degrees, the humidity was 89 percent and winds were from the north at 9 mph, making the windchill 25 degrees.
Snow had not yet started falling, but was expected to begin this afternoon, according to Jennifer Schack, 6News meteorologist.
The National Weather Service has put much of northeast and north central Kansas in a Winter Weather Advisory, Schack said. The advisory means that the weather will cause travel difficulties for drivers, including visibility problems and slick roads, especially on bridges and overpasses.
In Douglas County, the advisory lasts through 9 p.m. The advisory lasts through midnight for Leavenworth and Wyandotte counties.
Tonight, temperatures will fall off to 24 degrees and snow will end by early Saturday morning, she said. Sunshine will return on Saturday, with the high climbing to 46 degrees, Schack said.
Sunday's morning low will be 28 degrees. Sunday's afternoon high will climb to 45 degrees, with partly cloudy skies, she said.
Copyright 2018 The Lawrence Journal-World. All rights reserved. This material may not be published, broadcast, rewritten or redistributed. We strive to uphold our values for every story published.