Pat Flavin - already president, managing broker and co-owner of Lawrence Realty Associates, Baldwin Realty Associates, Eudora Realty Associates and Topeka Realty Associates - is working with an additional title this month: chairman, Lawrence Chamber of Commerce.
Flavin, who took over for Shirley Martin-Smith, leads a 28-member chamber board that oversees an operation of 18 employees whose duties range from membership services to economic development to the Lawrence Convention & Visitors Bureau. His term runs through the end of the year.
The volunteer position comes on top of his professional duties - being in charge of a real estate business whose Lawrence office handled $57 million in sales volume during 2005.
What lies ahead for the community in 2006? During his first week as chamber chairman, Flavin agreed to look into the future and discuss his hopes and expectations for the next 12 months.
Q. What are your goals for the coming year?
A. My real emphasis is to try to be helpful in a visioning process for Lawrence/ greater Douglas County. I feel it's extremely important that this process be open but timely, and that it's vital - crucial - to this community, along with KU and the other institutions of higher learning in the county, going forward with any implementation of any plans.
Q. Do you really think this can be accomplished in a year?
A. Yes, because that's the full intention. That is my full intention, and I don't mean that egotistically, but I know that there are a lot of people who share this same sentiment, that now is the time. :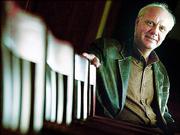 We have such huge collective brain power in this community - which is wonderful - but we tend to maybe overanalyze, and I don't think we've stepped up and accepted the wisdom in a more future-minded planning mode. We've incrementally reacted to things. I think we've confused planning - what we call planning - with what, in true retrospect and in true analysis, has been just kind of an incremental, reactionary type of way we've dealt with things. I'm not trying to be critical. I'm critiquing here. And those are two different words.
I think the timeline with which things change is actually, 'The rate of change is changing exponentially.' And I think we're struggling with realizing how quickly things are changing. : It's difficult to look out 10, 15, 20 years ahead, but we need to do more of that.
Q. Do you have any specific goals for the process?
A. It would be real helpful if all the people at the table would be able to hear from the various sectors, or stakeholders, as to what it is that is ideally their dream, and what challenges they see (and) they have to face in making some things happen.
For example, I think it would be real helpful for us to get a clearer view about where KU wants to go and what its mission is. I think we all operate with somewhat of a presumptuous attitude that we already know kind of what that is, but maybe it's time for everybody to give a little specificity as to, 'Here's really what we want.'
Q. Can you think of any specific problems that might be solved by establishing a community vision?
A. The shared utilization of resources, of buildings, equipment in town - and I'm not saying there is or there isn't - but whether there's a redundancy in terms of utilization of facilities. We could be smarter about our utilization of our parks, with the school district, with KU.
I'd like to see us - the term is called 'overfix' a few problems. In other words, not just fix it for today, but look far enough ahead to realize that we've set up opportunity for things coming at us in the future.
There's the new referendum - maybe a new challenge (to create a public-private athletics complex) - we have about youth sports in the area. I want to see that happen, and I want to see us be wise enough to see that we bring everybody that could be a player in it, and participatory in making it happen, which would include the institutions of higher learning - KU in particular - and the school district, and parks and rec, and private entities to all be a part of it, so that maybe, on a grand level, we can end up with facilities not only to fix the problems now, but far down the road.
Q. The ECO2 Committee has brought 'players' together to create plans for developing new business parks and preserving open space. Is this the same sort of effort?
A. I think the efforts of ECO2 ought to be applauded highly, by bringing two constituencies together that really worked through and became agreeable to a common goal there. And that, to me, is kind of a microcosm of what hopefully would happen with a bigger visioning process.
I look at ECO2 as an excellent example of how various groups - arguably, at times, with supposed differing interests - can actually come together in a synergy and in well-intended spirit to go forward together, not separately, to make some things happen.
Q. It's also taken a few years, and their work isn't done yet.
A. They're exemplary in the coming together of mind and spirit in pursuit of a common goal. And that's what we hope to have happen this year.
I do think, in this case, given some of the challenges that we're looking at, we need to be more - not that they weren't timely - but we need this to be a timeline, I'd like to see no more than about six months. I'd like to see us up and operational, so to speak, with a vision, going forward, by mid-summer at the latest. And it should be done and can be done. There's no reason it can't be.
Q. OK, say it does happen. The vision is created. What does the community get out of it?
A. An ideal in all this is to place Lawrence comparatively among other cities nationwide as one of the more futuristic minded in abilities to see trends and things far ahead, because we will have brought to the table a couple of things:
One, all of the players who genuinely and honestly put on the table their strengths and their weaknesses and say, 'Here's where we need some help, here's where we're challenged, but here's what we have to offer.' Collectively, we pretty much take an inventory of where we're at. That's a part of this process. I think we make assumptions of who we are, without in some ways really knowing who we are through empirical data or some objectivity.
It's great to have a dialog, like with KU. I'd like to know what their five-, 10-, 15-, 20-year program is. That's their business, but we'd love to share, so that maybe the city and the county can do some things to help enhance that. If they want to be a major research university, if they really want to go after the 18- to 22-year-old demographic for undergrads, it would be helpful to know so that we could kind of plan things accordingly, in terms of land use and traffic, etc. :
The payoff is there's considerably less waste in time, energy, motion and money - resources - by not doing things poorly the first time, and then going back in having to mitigate or remediate things.
Secondly, it allows us to get focused and play to our strengths, rather than deluding ourselves with the notion that we can kind of be general practitioner to anything. In the world of focus, it's the forward-power energy ratio, they call it. And when you're truly able to focus on something, it works exponentially in your favor.
Q. What happens if the focus creates a vision that everybody wants - a wonderful quality of life, lots of parks, nice roads and all the rest - but ends up with components that conflict with one another? What then?
A. I see the process as being a little painful, at times, because it's like growing up. You're going to have to go through some awkward stages, and kind of stumble along the way a little bit, but as long as everybody comes to agreement early on that at the end of the day, so to speak, if we can all agree on about 80 percent of what the final product is, by gosh, that will be pretty good. Because that means just about everybody is in supermajority agreement about where we want to go with things. :
Now, on a more macro level, we've been used to, for many years, being able to kind of think that we're, we've been, autonomous from the rest of the state, given the unique nature of our community, with KU here, and our proximity to Topeka and Kansas City.
But there are powers and energy fields going on in this state now that are going to garner a lot more emphasis and resources, just by the nature of what's going on. And I'm talking about Manhattan, Geary County, Riley County, Pottawatomie County (and) Johnson County, with the Sunflower City stuff now widely opening up.
We want to be sure that we continue to be the driver of our own destiny in this county and the state, rather than defaulting back to second or third offerings that might be at a state level or governmental level.
Q. Lawrence should call its own shots...
A. Yes, call our own shots. And this is where, I think, we want to be more self-directed than what I think we've been doing. I think we've been delusional about how self-directed we've been.
There's no reason this community can't be nationally known as a future-minded - and I'm not talking weird futurism stuff - but with changes so rapidly happening, exponential changes happening in technology and in everything else, with our resources and brain power here, there's no reason we shouldn't be at the front, cutting-edge of how, societally, you do things in terms of planning your communities for the future. This is going on in other parts of the country, and we need to get out front. That's why I think this timing is more crucial than a four- or five-year (timeline).
I don't think we have that kind of time to be overly ponderous or overly contemplative about what it is we're doing. I'm not trying to hurry it, but there's no reason this able-bodied citizenry in this community can't get their act together on this in four, five or six months."
Copyright 2018 The Lawrence Journal-World. All rights reserved. This material may not be published, broadcast, rewritten or redistributed. We strive to uphold our values for every story published.