Pasadena, Calif. — There aren't enough hours in the day to watch all the Winter Olympics coverage that NBC and its cable partners are serving up.
Seriously.
Even if you want to watch someone hurtling headfirst down a mountain or actually know what the biathlon is, it's impossible to see it all. NBC's planned 416 hours of coverage (including the broadcast network and cable outlets) from Turin, Italy, averages out to 24.5 hours a day.
"We are reinventing the clock," said David Neal, executive producer of NBC Sports.
The Winter Games open Feb. 10 and competition stretches for 16 days after that. NBC executives are privately trying to downplay ratings expectations, given that Olympics on U.S. snow and ice - like Salt Lake City in 2002 - tend to draw more interest. But they're hoping a strong United States team will spike the TV turnout.
"The thing that our viewers will immediately notice each day is the strength of the U.S. Olympics team," Neal said. "It's the most accomplished Winter Olympics team that the U.S. has ever fielded."
It's not like NBC is going to wrap itself in a flag and ignore accomplishments of foreign athletes, but it helps if there are more competitions with a national rooting interest, he said.
For the winter Olympics to really take off for NBC, it requires some kind of story, some personalities that intrigue viewers. Tonya Harding and Nancy Kerrigan won't be around this time, but Michelle Kwan is continuing her quest for ice-skating gold.
And American skier Bode Miller introduced himself to the world away from snow-covered mountains with his "60 Minutes" interview on CBS admitting he has skied after drinking.
NBC's prime-time coverage will feature high-profile sports like figure skating, skiing and snowboarding. Because Turin is seven hours ahead of Central Standard Time, those competitions will be taped instead of shown live earlier in the day.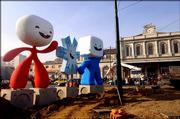 That's an increasing risk in a wired world - even NBC's Olympics Web site will provide up-to-the-minute results - but Neal said research shows viewers want to watch those sports when it's most convenient to them.
During the figure-skating competition, the USA Network will air a one-hour show at 5 p.m. CST called "Olympic Ice," providing news, analysis and interviews on the sport.
USA, MSNBC and CNBC will provide many hours of coverage - USA and MSNBC during the day and CNBC for three hours in the early evening after the stock market closes.
Copyright 2018 The Associated Press. All rights reserved. This material may not be published, broadcast, rewritten or redistributed. We strive to uphold our values for every story published.