Tonganoxie — Call it the curse of the zero.
Entering Thursday night with an 0-10 record, the Tonganoxie High boys found themselves facing twice the pressure in the fourth quarter against Leavenworth Immaculata.
Some of it came from the Immac defense, but more was from the Chieftains themselves to get the donut out of the win column.
In the end, it was too much for Tongie to overcome in a 54-42 loss in the Tonganoxie Invitational.
"Right now, I think they're trying so hard down the stretch to get that win : sometimes you've got to relax a little bit," Tongie coach David Walker said. "They're wanting it for each other and playing hard. They're just getting out in a little bit of a hurry."
Immaculata reeled off a 20-6 run in the final eight minutes, with 13 of those points coming from David Beck. The 5-foot-11 senior finished with 33 points on 14-of-24 shooting.
"You have to tip your hat sometimes," Walker said. "We obviously didn't have a stop for him. They did a good job of finding him and getting him the ball."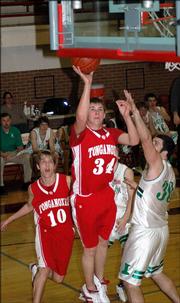 The final period ruined what otherwise was a promising night for Tongie.
The Chieftains jumped to an early 16-7 lead, making eight of their first 11 shots with the help of numerous cuts to the basket against the Raiders' 2-3 zone.
"The kids are continuing to play better," Walker said. "I think we're executing things much better."
Immaculata rallied to tie it at half, but Zack Pistora gave Tongie a spark when the team needed it.
The lone Chieftain senior stole the opening inbound pass and raced to the other end, laying it in for two with a foul.
After a Tyler Miles basket, Pistora scored twice more on putbacks to give Tongie an 8-0 run and a 31-23 advantage.
"I know he wants to win as bad as anybody," Walker said. "He's putting everything on the line. I think his teammates want to get him one, and they're going to keep battling."
It wasn't enough.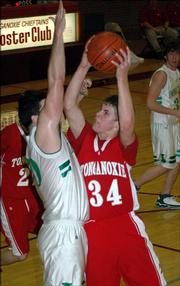 Led by Beck, who scored 18 of the final 31 points, Immaculata took its first lead at the 5:15 mark of the fourth quarter and never trailed after that.
"We were still playing pretty good defense, he just made some good plays," Pistora said. "You have to give credit to him."
Pistora led Tongie with 14 points, while Miles also hit double figures with 10.
The Chieftains will play Lansing at 2:30 p.m. Saturday in the Tonganoxie Junior High gym.
Immaculata 54, Tonganoxie 42
IMMACULATA (54)
David Beck 14 4-5 33, Derek Kooser 1 4-6 7, Mike Bassert 2 0-3 6, Ben Kelly 2 0-0 4, Nick Kaufman 2 0-2 4, Brian Boarman 0 0-1 0, Jeff Matzeder 0 0-0 0. Totals 21 8-17 54.
Tonganoxie (42)
Zack Pistora 6 2-5 14, Tyler Miles 5 0-0 10, Jeff Hughes 3 0-2 6, Gabe Belabrajdic 3 0-0 6, Zeb Kissinger 2 0-0 4, Jordan Herron 1 0-0 2, Jake Krause 0 0-0 0, Bryan Morris 0 0-0 0. Totals 20 2-7 42.
Immaculata 7 16 11 20 - 54
Tonganoxie 14 9 13 6 - 42
Three-point goals - Immaculata 4 (Bassert 2, Kooser, Beck); Tonganoxie 0. Total fouls - Immaculata 7, Tonganoxie 19. Fouled out - Herron. Turnovers - Immaculata 8, Tonganoxie 13.
Copyright 2017 The Lawrence Journal-World. All rights reserved. This material may not be published, broadcast, rewritten or redistributed. We strive to uphold our values for every story published.