City Hall doesn't have its list yet.
But marathon runner Dennis Anthony has already done some legwork that may help as city staff members work to identify the city's worst sidewalks.
"That one's been there a long time," Anthony said, pointing out a bump in the sidewalk at he steered his SUV past the northwest corner of Bob Billings Parkway and Kasold Drive. "I've avoided that one many times."
Anthony, a chiropractor who wakes each morning at 4:30 a.m. to train, contacted the Journal-World and offered to give a tour of the most glaring sidewalk problems and discrepancies he sees on his daily runs.
Anthony said that he didn't want to be depicted as an angry citizen or troublemaker, but that his examples helped show how the city's system for maintaining sidewalks was falling short.
"Things are not consistent," he said. "There should be some type of control over it."
List of problems
Here are some of the highlights from Anthony's "tour":
¢ Centennial Park, Sixth and Iowa streets. People who are walking east along the south side of Sixth Street have a sidewalk until they reach the park, at which point they must cross Sixth Street to keep on a sidewalk.
"That's our city park," Anthony said, marveling at its lack of a sidewalk.
¢ Sixth and Kasold. Even though the city just finished a major road-construction project here, there's still no sidewalk along the south side of Sixth Street in front of the Westgate shopping center. The sidewalk adjacent to the shopping center ends abruptly, with a utility pole directly in front of the spot where the sidewalk ends.
¢ Hidden Valley Camp, Bob Billings Parkway and Kasold Drive. Anthony said he watched the sidewalk begin to settle and crack after a utility company put a pipe under the street recently, but no one has fixed it.
¢ Bob Billings Parkway near Crossgate Drive. When two new homes were built in the past year, Anthony said he watched construction vehicles drive back and forth across the sidewalk along the north side of Bob Billings Parkway, leaving it with large cracks.
Photo Gallery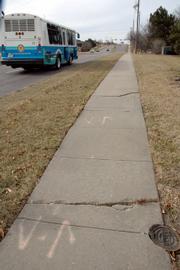 Damaged Sidewalks
"They just beat this sidewalk all up to heck," he said. "Who pays for this?"
¢ Lawrence Police Department Investigations & Training Center, Bob Billings Parkway and Wakarusa Drive. The sidewalk in front of the building, which the police department began occupying in 2001, is cracked and bumpy.
l Bob Billings Parkway and Foxfire Drive. Anthony pointed out two spots on the curb that were dented when city crews did curb work there in the fall. Workers spray-painted two pairs of pink arrows showing two spots where the concrete needed to be repaired, but nothing's happened so far.
"I could tell you places all throughout town," he said. "This is just the tip of the iceberg."
City creating inventory
Under Kansas law, sidewalk maintenance is the responsibility of the adjacent property owner. But unlike some other cities, Lawrence has no money earmarked for fixing the worst problems as they come up.
At the request of the City Commission, city staff members are creating an inventory that will show which streets have sidewalks and which don't. Eventually, it could be used to track the worst sidewalks and prioritize them for repairs.
"I bet we could employ at least two people" dedicated to monitoring sidewalks, public works director Chuck Soules said. "If that's a priority of the commission, we can pull people off of something and put them on other projects."
'A top priority'
Commissioner Sue Hack said she thought Anthony's concerns were on target.
"I think cities are defined by their streets and sidewalks. Those need to be in good repair, and we need to be setting the example for that," she said.
But the question is who foots the bill for a better system.
"If our theme in this community is connectivity and walkability, then providing the facilities to do that has to be a top priority," Hack said. "That's going to have to be looked at in terms of what we do with public spending. Is the community willing to have taxes raised to do that?"
Copyright 2018 The Lawrence Journal-World. All rights reserved. This material may not be published, broadcast, rewritten or redistributed. We strive to uphold our values for every story published.