They are the successful veterans of Lawrence's business world, and now that they are retired, they are serving their community in a different way.
More than a dozen former business leaders now serve on the Lawrence Chamber of Commerce's Senior Council. They provide a variety of services, such as providing advice to chamber leaders and the current crop of business leaders.
Senior council members also assist and relieve chamber workers and officials with tasks like brochure and annual report deliveries. They ring bells for the Salvation Army's Red Kettle campaign, and they help the chamber put on a variety of public functions.
"Those folks serve a role we don't want to lose touch with," chamber President Lavern Squier said. "They've had great business careers and experiences in our community, and we certainly want to tap into that reservoir of knowledge ... ."
Joe Takacs, who served as the 2005 senior council chairman, is a former engineering manager at Kinedyne Corp. At 72, he still does some consulting work for the company.
"Our purpose is just to help the chamber in any way that we can," Takacs said. "We also do things out in the community."
Takacs turns over his seat as chairman to retired physician Phillip Godwin for 2006.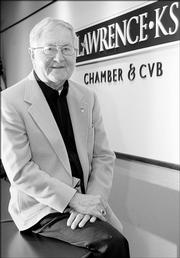 Council members also take occasional tours of plants and other businesses to see what can be learned, Takacs said.
"The reason we do the tours is to see what the products are that they are making and what they do," Takacs said. "People enjoy seeing these things. It's interesting."
The council meets the fourth Thursday of the month, except for December.
"It makes it nice because we get to see each other, and now we can do what we want to do," Takacs said. "We used to see each other mainly when we were on all the committees."
As for offering advice to today's top local business leaders, if the council members are asked, they will respond, Takacs said.
"That happens individually; it hasn't happened when anything comes before the committee," he said.
Takacs said he stayed involved because he knows the importance of the chamber to a community.
"If you don't have a chamber, who would businesses talk to find out about Lawrence, its taxes, schools and other things?" he said. "I can't say enough about (the chamber). They (employees) work hard, and they explain all the benefits to Lawrence."
Chamber officials can't say enough about the help they receive from the senior council. It is a great way to keep the senior members engaged with the chamber, said Cathy Lewis, vice president of membership.
"They are a wealth of knowledge and experience," she said. "We appreciate their desire to continue to support the chamber's mission."
Copyright 2018 The Lawrence Journal-World. All rights reserved. This material may not be published, broadcast, rewritten or redistributed. We strive to uphold our values for every story published.