Mike Holmgren's forte is offense. It showed in Green Bay and it is showing in Seattle.
John Fox made his reputation as a defensive coordinator. His Carolina teams reflect that.
When the Seahawks and Panthers meet Sunday for the NFC championship, how well host Seattle's versatile offense moves and scores against Carolina's impressive defense figures to determine which team winds up in the Super Bowl.
Already in these playoffs, we've seen how dominant the Panthers can be without the ball. Their performance at the New York Giants in the wildcard round was the most impressive of the postseason. And while the Bears did get 21 points last week, the Panthers (13-5) rarely seemed threatened. They made all the key stops late in the game.
Defensive end Julius Peppers points directly at Fox and the coaching staff as the force behind the forceful defense.
"He does a good job of game-planning and switching the game plan up so we're not the same all the time," said Peppers, who led the Panthers with 101â2 sacks and has been a solid run-stuffer, too. "We attack people's weaknesses and we use different schemes each week.
"So we know that in order for us to play well, we've got to know what we've got to do. Everybody is focused on the game plan and focused on what we have to do."
Unquestionably what they have to do Sunday is slow down league MVP Shaun Alexander, who has recovered from a concussion and will start. Naturally, Peppers - listed as questionable with a shoulder injury but, according to him, ready to go - will play a major role, along with defensive linemates Mike Rucker, Brentson Buckner, linebackers Will Witherspoon and Dan Morgan, and safeties Marlon McCree and Mike Minter.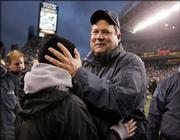 "I see that he runs the ball hard and he has good vision for the cutback run," Peppers said of the NFL's leading rusher. "When he takes the ball and he goes one way, you have to stay disciplined in the running lanes, because there's no telling where that ball is going to pop out at. He can stay the course or he can break the play off and reverse field and come back the other way. He could go inside; he's all over the field.
"So you've got to be disciplined when you're playing against a back like that, because you never know where he's going to take the ball to."
Last week, he didn't take the ball much of anywhere. The Redskins knocked him out of the game early, and Alexander rushed only six times for nine yards.
So quarterback Matt Hasselbeck was sensational, going 16-for-26 for 215 yards and a touchdown, plus running for another.
That's the kind of attack Holmgren wants: balanced, dependable. Indeed, fullback Mack Strong, like Alexander an All-Pro, had only three carries in the win over Washington, but he gained 30 yards.
Mo Morris, who stepped in for Alexander, gained 49 yards, and Darrell Jackson, back from knee surgery that cost him nine games, caught nine balls for 143 yards and a TD.
"I am proud of Mo and this whole team," Alexander said. "I have been telling everybody for the last couple years that we were close to being a championship team and I was proud of the guys this year for always accepting challenges. This was just another challenge. You lose a player and guys just step up. You saw guys just jelling together, and Darrell came back and had a great, great game. Mo made some great third-down runs. That's what teams do."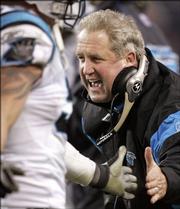 What the Seahawks (14-3) do might not be as spectacular as the Holmgren-coached teams in Green Bay that won one Super Bowl and lost late in another, but they do reflect his philosophy. Hasselbeck is no gunslinger like Brett Favre in his prime, but he's no slouch. The receiving corps is underrated after, generally, erasing its penchant for drops. And the line is as good as any in the NFL.
Jackson could be a significant weapon Sunday. While nobody expects him to match the production of All-Pro Steve Smith, he did outperform Washington's Santana Moss last week.
"We need Darrell," Holmgren admitted. "But I think the real answer is that Matt's thrown a lot of passes to Darrell, in practice and during the season, in the last four years. That's what's allowed us to not skip a beat."
They'll need to hit nearly every beat again to earn their first Super Bowl trip.
Copyright 2018 The Associated Press. All rights reserved. This material may not be published, broadcast, rewritten or redistributed. We strive to uphold our values for every story published.