San Fancisco — After years of silence, the father of American-born Taliban soldier John Walker Lindh said Thursday he had asked President Bush to grant his son clemency, adding that the then-teenager never raised arms against the United States.
"In simple terms, this is the story of a decent and honorable young man embarked on a spiritual quest," said Frank Lindh, swallowing back tears at times during a speech at the Commonwealth Club, a nonprofit organization.
John Walker Lindh, now 24, was captured by American forces on Nov. 21, 2001, alongside the Taliban. Frank Lindh said his son thought he had been rescued by U.S. soldiers until he was taken into custody and tortured.
Charged with conspiring to kill Americans and supporting terrorists, the younger Lindh avoided a potential life sentence in 2002 by pleading guilty to lesser charges of supplying services to the Taliban in violation of U.S. economic sanctions and of carrying weapons against U.S. forces.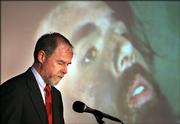 Last year John Walker Lindh asked President Bush for a reduction in his 20-year sentence, repeating a September 2004 request the government rejected.
Until now, his parents have mostly maintained a public silence about the case, hoping to avoid a media barrage that could be detrimental to their son. But Frank Lindh said Thursday he decided to break his silence because he hoped the story of his boy's journey from bucolic Marin County to harsh Afghanistan battlefields would help gain him a reprieve.
Copyright 2018 The Associated Press. All rights reserved. This material may not be published, broadcast, rewritten or redistributed. We strive to uphold our values for every story published.