Charolottesville, Va. — Little by little, Virginia's players are understanding more and more of coach Dave Leitao's teachings, and it's starting to show.
"Good things are happening," guard J.R. Reynolds said.
Reynolds was one of those good things Thursday night, scoring 10 of his 16 points in the last 11 minutes when the surprising Cavaliers used a big run to go ahead for good and then held on to beat equally young No. 24 North Carolina, 72-68.
"It's a learning process, and we're getting better each day," Reynolds said.
Guard Sean Singletary, whose first season came in the difficult last season under Pete Gillen, agreed and said things should continue to get better.
"We're buying into what he's saying," Singletary said. "He's been preaching to us since he first stepped foot in Charlottesville. It feels like everybody is really responding to what he's saying. When it comes game time, it's really showing."
The victory was the second in a row for the Cavaliers (9-6, 3-2 Atlantic Coast Conference), following up a 54-49 victory Sunday at Virginia Tech.
The results, Leitao said, showed the team that he knows what he's doing when insisting they play tough defense, take care of the ball and play with discipline.
"I can talk until I'm blue in the face, but these proving points happen, fortunately or unfortunately, when you win or lose games," he said.
North Carolina (10-4, 2-2) lost its second straight. The Tar Heels were stunned, 81-70, at home by Miami on Saturday, ending a four-game winning streak, and were stymied by Virginia's interior defense on Tyler Hansbrough and 36 percent shooting.
"Their guards just dominated the game," North Carolina coach Roy Williams said.
Singletary led Virginia with 18 points, but had only two down the stretch when Reynolds, freshman Laurynas Mikalauskas and Jason Cain all made big plays.
Mikalauskas twice scored on putbacks and grabbed several key rebounds, and Cain finished with just seven points and five rebounds, but added five blocks, several in the final minutes as the Tar Heels tried to get the ball inside to Hansbrough.
"Today just showed what we can do when everybody's playing well," Cain said.
Hansbrough led North Carolina with 18 points and 10 rebounds and David Noel had 14 and 10 rebounds, but they also combined to commit 10 of the Tar Heels' 14 turnovers.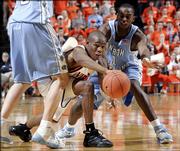 Singletary had eight points in a 13-2 run that gave Virginia the lead 51â2 minutes into the second half. The burst grew to 26-10 over nine minutes, giving the Cavaliers a 55-46 edge with 8:29 to play, and from then it was a matter of staying in front.
No. 10 Washington 69, Oregon State 65
Seattle - Bobby Jones made two key baskets down the stretch and sank two free throws with 16.5 seconds to go, finishing with 16 points to lead Washington. The Huskies (15-2, 4-2 Pac-10) ended a two-game conference losing streak at home after they had a 32-game home winning streak broken. They won their third straight league game. But it wasn't easy on a night when they didn't shoot well and preseason All-America Brandon Roy struggled with eight points on 3-for-9 shooting.
Copyright 2018 The Associated Press. All rights reserved. This material may not be published, broadcast, rewritten or redistributed. We strive to uphold our values for every story published.