Jayhawk fans will have more than a few memories rekindled Saturday afternoon, when the new Booth Family Hall of Athletics officially opens its doors.
"There will be a lot to see," said Jim Marchiony, associate athletics director at Kansas University.
"KU fans are really going to enjoy it."
Plans call for opening the hall at 12:30 p.m. It will close after the Nebraska vs. KU men's basketball game.
On Sunday, it will open at 11:30 a.m. and close after the Oklahoma State vs. KU women's game.
Because the hall's entrance is through Allen Fieldhouse, admission will be limited to those with tickets to the games.
The two-story, 26,000-square-foot facility is loaded with photographs, trophies, memorabilia and video clips.
Photo Gallery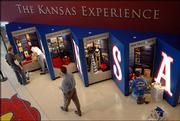 Hall of Athletics
"There will an interactive kiosk where you'll be able to enter the name of anyone who played on a varsity roster, and it'll call up the sport, when they played and whatever statistics are available," Marchiony said.
Other displays will honor:
¢ Student athletes who were first team All-Americans, set a U.S. or world record, or competed in the Olympics.
¢ Coaches whose teams achieved national prominence.
"There will be a section for every sport that ever fielded a varsity team, whether it's still in existence or not," Marchiony said. "Every sport - men's and women's - will be represented."
Some of the exhibits are permanent, while others will be rotated.
"The building is designed to be very flexible," Marchiony said. "We'll be able to make changes as time goes along."
Special events, too, are a possibility - book signings, for example.
"We've talked about it, but there's not been a decision," Marchiony said, noting that plans call for fans to have input on which items will be put on display.
"We're not going to be shy about asking people what they think," he said.
The hall's design does not intrude on the Allen Fieldhouse mystique.
"There was concern early that the hall might somehow deface Allen Fieldhouse," Marchiony said. "We made sure that didn't happen, it looks like it's part of the fieldhouse."
The statue of Coach Forrest "Phog" Allen, he said, remains the "centerpiece of the outside of the building."
After Sunday, the hall will be open from 9 a.m. to 6 p.m. Monday through Friday; 10 a.m. to 5 p.m. on Saturdays.
The hall will be open before and during men's and women's basketball games, including those on Sundays.
Besides game days, plans call for the hall being closed on Sundays.
The hall was made possible by the children and grandchildren of Gilbert and Betty Booth, who died in 1985 and 1995, respectively. Both were devoted fans and longtime Lawrence residents.
To honor their parents, the Booth children and grandchildren donated $5 million to the athletic department.
The hall has been under construction for eight months.
Copyright 2018 The Lawrence Journal-World. All rights reserved. This material may not be published, broadcast, rewritten or redistributed. We strive to uphold our values for every story published.