A dog that attacked two children in North Lawrence in less than two months will be put down.
Lawrence Police were called to Lawrence Memorial Hospital at 3:20 p.m. Sunday after a report that a dangerous dog had bitten a child. Maurice Jacobs, a fourth-grader at Woodlawn School, had an injury to the left side of his upper lip.
Maurice and his twin brother, Marcus, had been at the home of a friend in the 300 block of Lincoln Street and were playing with the dog, a 1-year-old chow and German shepherd mix, when it bit Maurice.
"His lip - all right here - gone," said Bernadette Jacobs, Maurice's mother, running her finger across the left side of her upper lip.
On Monday, Maurice had surgery and stitches to repair damage to his lip. He will miss at least a week of school while recovering.
"Next week, they'll take out the stitches," Maurice said.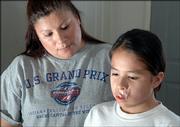 "I think (the dog) should be put down because no one else should go through this," his mother said.
Carol Fitzgerald, a relative of the homeowner, owns the dog. She also lives at the house.
Fitzgerald declined comment other than to say that the dog would be euthanized.
City prosecutor Jerry Little said one dog-bite case already was pending involving the animal. The charges were damage to property by an animal and failure to immunize an animal, he said. A first appearance was set for Feb. 3.
Bob Geddings, who lives behind the house where Fitzgerald was staying, said the incident in December involved the dog biting his 10-year-old daughter about a quarter inch from her left eye.
Geddings said his daughter was at the neighbors' house, lying on the floor and watching them put up their Christmas tree when the dog bit her. She was treated for the injury at Lawrence Memorial Hospital, he said.
Little said the dog was returned to the owner after the first incident because the case was charged as a property-damage case instead of under the city's dangerous-dog ordinance.
According to city code, a dog accused of being dangerous may be impounded at a veterinary clinic or the Lawrence Humane Society while awaiting court proceedings. A judge then has five to 20 days to conduct a hearing.
If a dog is found to be dangerous, the owner must register the animal with the city and keep it confined.
In any animal bite case, an animal must be observed at a veterinary clinic for at least 10 days to check for disease, according to city code.
Geddings said he was upset the dog bit another child and that he believed it should have been quarantined at least until a hearing was complete.
"I think it's wrong. I think something needs to be done about the rules of keeping animals," he said.
Bernadette Jacobs said the family's health insurance has covered the costs of her son's injury.
Little confirmed that his office received a call Wednesday from animal control officers who said the dog's owner had signed paperwork to turn it over to them. The dog was to be taken to the humane society and put to sleep.
Whether Little's office continues to pursue charges in the first case or file charges in the second case will depend on whether the victims decide to pursue restitution for any damages, he said.
Copyright 2018 The Lawrence Journal-World. All rights reserved. This material may not be published, broadcast, rewritten or redistributed. We strive to uphold our values for every story published.