Usually, when Dorothy Cotton is introduced, her host notes that she marched with Martin Luther King Jr.
"We didn't just march!" Cotton said, throwing up her hands in good-natured exasperation at the notion that King's legacy could be boiled down to such a simple act.
Cotton, who on Monday addressed the 21st annual communitywide observation of Martin Luther King Day at the Lied Center, was education director for the Southern Christian Leadership Conference from 1960 to 1972.
Along with Andrew Young and Septima Clark, she traveled throughout the segregated South, recruiting students for classes on equal rights, responsible citizenship and nonviolence.
These students later formed the base for the civil rights movement. King, she said, built upon this base.
"When I hear people talk about how all the power is in Washington now, I think we need to start these classes up again," Cotton said, noting that change still begins at the grassroots level.
Cotton was a member of King's executive staff when he gave his "I Have a Dream" speech in 1963 and during his 1964 trip to Norway to accept the Nobel Peace Prize. King was assassinated in 1968.
Cotton used her Lawrence appearance to stress how music had fed, sustained and defined King's quest for equality. She led the audience in several songs.
"We can tell the whole story of the civil rights movement through music," she said, noting that both old-time spirituals and pop tunes were often used to motivate audiences.
Cotton, who called King "one of my best friends," urged the 300 people in attendance not to assume his legacy was beyond their reach.
"He was an ordinary person who did extraordinary things," she said.
Photo Gallery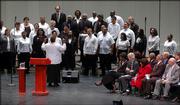 MLK Observance
Cotton's often lively presentation struck a chord with many in the audience.
"She helped me realize that while we can't forget the work that was done in the past, we also have to focus on the future and to do what we can to make the world a better place," said Gail Houston, a soldier stationed at Fort Leavenworth.
"I think this is really good for the community; it brings us together," said Stephen "Jerry" Dowdell, whose brother, Rick, was killed during a 1970 altercation with Lawrence police.
"The Lord has blessed us with this event," he said. "I hope it grows and grows."
But in recent years, attendance has declined.
"I'm afraid the crowd is getting smaller," said Ronald Schneider, representing the Lawrence Jewish Community Center.
The Lied Center's lower and upper levels, which can accommodate 2,000 people, had an abundance of empty seats. More than 500 attended last year's celebration.
Commenting on the sparse attendance, the Rev. William Dulin said, "I believe what the Bible says - that one will chase a thousand, that two will put 10,000 to flight."
The effort, he said, was worthwhile if Cotton's and King's messages reached one person in attendance.
The two-hour event included performances by the Central Junior High Orchestra and community youth and adult choirs.
Copyright 2017 The Lawrence Journal-World. All rights reserved. This material may not be published, broadcast, rewritten or redistributed. We strive to uphold our values for every story published.