This time, they stayed out of jail.
The four Kansas University fans whose banner at the KU/Mizzou Border Showdown last year spurred a scuffle with off-duty MU Police Chief Jack Watring, landing one fan in jail, returned to the scene Monday.
But they left the infamous banner in Lawrence.
"I certainly would not hope for an incident like last year," said Christian Green, one of the group. "I think that goes without saying. It was completely unwarranted."
The four Jayhawk fans involved in the incident were Chris Kaufman, Andrew Wymore, Rich Littrell and Green.
Before the Border Showdown game last year, the group unfurled a 6-feet-long banner. It read: "Call it what you want, it'll always be Allen Fieldhouse East."
A man, later identified as Watring, complained and eventually began taking the sign down from a railing where it was posted.
An incident ensued in which Watring allegedly grabbed Kaufman's shirt. Wymore was kicked out of the arena and later arrested for trespassing when he purchased another ticket and attempted to re-enter the arena.
University of Missouri officials later said they conducted a 12-week investigation and cleared Watring of any wrongdoing. The trespassing charge against Wymore was also dropped.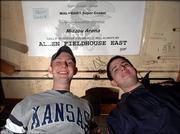 In response to the incident, MU has put its policies regarding banners into writing, said Chad Moller, MU's sports information director.
Among the restrictions, banners must be able to be held by one person, must display good sportsmanship and cannot obstruct others' view, Moller said.
The banner now adorns the ceiling of The Wheel, a bar near the KU campus at 507 W. 14th St.
Monday, after nearly a year dealing with the consequences of the banner incident, the fans were ready to put it all behind them.
They gave tickets to Wymore's attorney, who also attended the game.
This time around, the group watched the entire game. And there were no trips to jail.
Green said he gained a greater appreciation for many people in Columbia, but others weren't so supportive.
"I certainly lost a lot of respect for a lot of officials at the university - the ones that we dealt with," he said.
All the KU fans ever wanted, Green said, was an apology, but they never heard one.
Watring was out of the office and could not be reached for comment Monday.
"We don't look at it as a rivalry thing," Green said. "We look at it as our rights were violated."
Copyright 2018 The Lawrence Journal-World. All rights reserved. This material may not be published, broadcast, rewritten or redistributed. We strive to uphold our values for every story published.