Los Angeles — "Glory Road" is a magnificent story.
A high school girls basketball coach gets the job at Texas Western, an obscure mining school in El Paso, in 1965. He and his family live in a dormitory. With no talent and no recruiting budget, he talks seven black players from Detroit, Gary, Ind., and New York into coming.
They adjust to the coach's fierce demands, but one player is attacked in a restaurant bathroom by racists, and someone trashes their hotel rooms and scrawls racist epithets on the walls, in blood.
Undeterred, Texas Western (now UTEP) goes into the NCAA Tournament and beats mighty - and mighty white - Kentucky in the '66 finals. And 10 years later, black players are the backbone of every college program nationwide.
The movie is carried by Josh Lucas, who plays coach Don Haskins uncompromisingly.
The basketball scenes, overseen by USC coach Tim Floyd, are authentic. Jon Voight plays a condescending, crestfallen Adolph Rupp.
Only one question lingers.
What if "Glory Road" had stuck to the facts?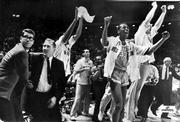 "It said 'based on a true story,'" David Lattin said the other day. He, Nevil Shed, Orsten Artis, Willie Worsley, Harry Flournoy and Willie Cager were in town for the nationwide premiere on Friday. The seventh and best black player, Bobby Joe Hill, died in 2002.
"Some of the things really happened," Lattin said. "Some of them are just a movie."
That's Hollywood, they say, where truth is never stronger than fiction. But the shortcuts always lead us to the same saccharine place. "Miracle" and "Hoosiers" and "Remember the Titans" have worn out the pattern - crotchety coach comes in to straighten some spines, meets resistance, wonders if it's worth it and then, of course, wins with violins.
The real story here would have been sufficient.
Pounding the race drum
Texas Western's 72-65 conquest of Kentucky really was the most influential college basketball game ever played.
Sure, blacks were playing at white colleges, but not in the South or Southwest. In 1963, four black starters led Loyola of Chicago to a national championship, and Mississippi State's team defied a governor's order and left late at night to go play the Ramblers (now, that's a movie).
Movie
Glory Road
** 1/2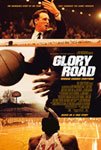 The true story of the 1966 Texas Western basketball team is filled with innate drama, tension, heart and historic importance (coach Don Haskins started an unprecedented five black players). But since this is a Jerry Bruckheimer production, these events are amped up with an overbearing score, camerawork and editing.
Get movie listings, reviews, and more at lawrence.com
-->
-->
Generally the best black players in the South had to go to the Big Ten or UCLA (Kenny Washington). The best player in ACC country during the late '60s was Earl Monroe, without question. Yet he played at Winston-Salem State, and he couldn't drink the same water as Duke or North Carolina.
The NCAA Tournament was not yet televised by the three major networks. Absolutely no one had seen the Miners, and Kentucky was undefeated. Yet the Wildcats had no starter over 6-feet-5, and the 6-7 Lattin was a major force.
Those who watched will never forget what they saw: Five unknown blacks, with two black substitutes, basically disrobing the emperors of college basketball.
Haskins still maintains that color was barely mentioned during Texas Western's run, especially by the players.
But the movie pounds the race drum every minute and, in a truly outrageous bit of apocrypha, puts Confederate flags in the hands of the Kentucky fans. It amused Billy Reed, former columnist in Lexington and Louisville.
"They had those flags at Ole Miss but not Kentucky," Reed said. "I rode from the airport to town with Coach Rupp the next day, and he never mentioned race. I don't know what was in his heart. But he tried to recruit Wes Unseld and Butch Beard (who went to Louisville)."
Embellishment not needed
"Glory Road" has plenty of other misdirections.
Haskins did not win the title in his first year at Texas Western. He actually got there in '61 and had several black players, including ex-Arkansas coach Nolan Richardson, and All-American Jim "Bad News" Barnes.
The movie emphasizes that Haskins went with seven blacks and no whites in the final game, which was tough for the white players to handle. But in the semifinals (which the movie omitted) Jerry Armstrong came off the bench and put a stop to Utah's Jerry Chambers.
Flournoy hurt his knee in the semifinals. The film shows Flournoy falling after a retaliatory shot by a Kentucky player, in an attempt to trump up the animosity.
At least "Glory Road" accurately showed Hill stealing the ball twice in the first half and making solo layups to give the Miners the lead it never lost.
But such an astonishing story did not need embellishment, never mind distortion.
Better to make a documentary, since most of the principal actors are still around and still quite aware of what they did.
"To me, the significance is that we started five blacks," Flournoy said Wednesday. "Before, there always had to be one white out there to make sure things were organized. We weren't smart enough to do that. But we proved otherwise."
As trainer Ross Moore (Red West) warns Haskins during the recruiting process, "You play one of them at home, two on the road, and three when you're trailing."
And in 1985, when Shed was an assistant coach at Texas-San Antonio, he went to the Final Four at Rupp Arena in Lexington.
"I found the oldest, rattiest TWC sweater I could find," Shed recalled back then. "And I wore it for five days in Lexington just so they could all see it and remember it. I never took it off."
The Miners, on their 40th anniversary, deserve to be commemorated. In "Glory Road," they can barely be recognized.
Copyright 2018 The Lawrence Journal-World. All rights reserved. This material may not be published, broadcast, rewritten or redistributed. We strive to uphold our values for every story published.