Don Miller hasn't known what to do the last couple of weeks.
Miller retired Dec. 31 after 39 years in ministry, the last 19 of which were at Immanuel Lutheran Church in Lawrence.
"I got in my mind that I completed my ministry there, but my body wants to stay on the track and agenda I've been moving on for 20 years," Miller says. "I cleared out my office and took the books out, and when I walked in and heard that echo, it was really unique."
Miller, 65, will be honored with a reception from 2 p.m. to 5 p.m. Sunday at the Eagles Lodge, 1803 W. Sixth St.
"He's been a very good minister for us," says Jim Schubert, a member of the congregation since 1945.
Miller came to Lawrence late in 1986 after serving churches in Iowa and Oklahoma.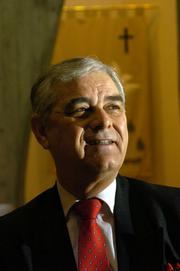 Earlier that year, Immanuel Lutheran had moved from its previous home at 17th and Vermont streets to its current location at Iowa Street and Bob Billings Parkway.
In its new location, the church was combined with the Lutheran University Student Center that serves KU. Miller immediately had to go to work assimilating the 400 church members with the students who attended services and meetings there.
The student center continues to have a full-time pastor on staff.
Now, the church has about 700 members, with an additional 35 to 60 students who attend services on Sundays. Miller says the church's high-profile location also makes it popular for worship-service visitors.
The growth has church leaders looking at the possibility of adding a second location.
"Lawrence is a transitional community, but I think our church has been exceptionally transitional because of our location and age of the members," Miller says. "We try to give people an opportunity for service and ministry while they're here."
Schubert, 93, says dealing with all of the church members - from students to himself - was a strength for Miller.
"He had to associate with a wide range of age groups and attitude groups," Schubert says.
Miller now plans to complete training to become an interim minister at other churches while continuing to live in Lawrence. Immanuel Lutheran will have its own interim minister, Earl Bielefeld, beginning this week.
"It's been a real joy to be in ministry going on 39 years, to give witness to my faith in Jesus Christ to so many people," Miller says. "I've shared joys in the lives of many families, and walked with them in times of crisis. For them to give me that privilege has been an honor for me."
Copyright 2018 The Lawrence Journal-World. All rights reserved. This material may not be published, broadcast, rewritten or redistributed. We strive to uphold our values for every story published.