CHAPEL HILL, N.C. — Earlier this season, Miami appeared to be drifting toward the kind of year that would have fans counting down the months to football season. Two straight victories against ranked opponents might change that.
Guillermo Diaz scored 24 points - including a clutch three-pointer late - to help Miami upset No. 20 North Carolina, 81-70, Saturday, giving the Hurricanes their first victory in six tries in Chapel Hill.
Robert Hite also had 24 points for the Hurricanes (10-6 overall, 2-1 Atlantic Coast Conference), who beat the Tar Heels (10-3, 2-1) for just the second time. The Hurricanes also recorded consecutive wins against ranked opponents for the first time, following last week's 84-70 victory against then-No. 14 Maryland.
"We've never had the experience of coming over here to a well known team like North Carolina and beating them," Diaz said. "It's a big lift for us."
The Hurricanes played plenty of zone defense to collapse on 6-foot-9 Tyler Hansbrough, sending a stream of double-teams at the rookie and forcing others to step up. Hansbrough finished with a career-high 25 points, but managed only one field goal in the final 131â2 minutes and went several stretches without touching the ball.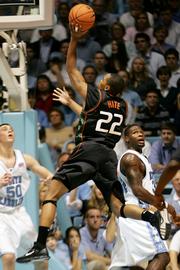 Reyshawn Terry was the only other Tar Heel to finish in double figures with 18 points; the rest of the team shot 10-for-32.
No. 1 Duke 87, Clemson 77
Clemson, S.C. - J.J. Redick scored 34, and Shelden Williams added 17 points and 11 rebounds as Duke beat Clemson for the 19th straight time. The Blue Devils (16-0, 4-0 ACC) are off to their best start since the 1992 NCAA champions opened 17-0. Vernon Hamilton led Clemson (13-4, 2-2) with a career-high 31 points.
No. 2 Florida 69, Auburn 57
Gainesville, Fla. - Taurean Green scored 21, including six free throws during the final 5:25, and the Gators (16-0, 3-0 SEC) extended the longest winning streak in school history. Frank Tolbert had 21 points for the Tigers (8-6, 0-3).
No. 4 Connecticut 74, Georgetown 67
Hartford, Conn. - Hilton Armstrong had 19 points - his sixth straight double-figure scoring game - and six blocked shots for Connecticut (14-1, 2-1 Big East), which beat the Hoyas (10-4, 2-2) for the 11th straight time.
No. 5 Memphis 73, SMU 53
Memphis, Tenn. - Joey Dorsey scored 13 and grabbed eight rebounds as the Tigers (15-2, 2-0 C-USA) opened the game with an 18-2 run. It was the worst loss of the season for SMU (7-7, 0-2), which dropped its third consecutive game.
No. 7 Illinois 79, Michigan 74
Champaign, Ill. - Dee Brown scored 26, and James Augustine added 23 as Illinois (16-1, 2-1 Big Ten) withstood a second-half charge. Daniel Horton scored 19 for Michigan (11-3, 1-2).
No. 13 Washington 69, No. 11 UCLA 65
Los Angeles - Bobby Jones pulled down a key rebound and made three free throws in the final seconds, giving Washington its first win at Pauley Pavilion in nearly 19 years. Jamaal Williams had 14 points on 7-of-11 shooting for Washington (14-2, 3-2 Pac-10), while Jones had 11. Michael Roll led the Bruins (14-3, 4-2) with 17 points.
No. 15 Boston College 90, Florida State 87
Boston - Craig Smith had 28 points and 14 rebounds for BC (12-4, 1-3).
No. 16 West Virginia 104, Marquette 85
Morgantown, W.Va. - Mike Gansey scored a career-high 33 despite hurting an ankle, and Kevin Pittsnogle had 30 as West Virginia (12-3, 4-0) broke its own Big East record with 20 three-pointers. Freshman Dominic James led Marquette (12-5, 2-2) with 28 points.
No. 17 George Washington 82, Saint Joseph's 70
Washington - Carl Elliott scored a career-high 20, and GW (12-1, 3-0 Atlantic 10) held Saint Joseph's (6-7, 1-3) scoreless for nearly six minutes in the first half.
No. 18 N.C. State 87, Georgia Tech 78
Raleigh, N.C. - Cameron Bennerman had 16 points for N.C. State (14-2, 3-1 ACC). Jeremis Smith had 20 points for Georgia Tech (9-5, 2-1).
No. 21 Wisconsin 68, Northwestern 52
Madison, Wis. - Alando Tucker had 20 points and seven rebounds, and Wisconsin (14-2, 4-0) remained the only unbeaten team in Big Ten play. Vedran Vukusic scored 15 points for Northwestern (9-6, 2-2).
Oregon 73, No. 24 Arizona 68
Eugene, Ore. - Malik Hairston scored 23 to lead Oregon (9-8, 3-2 Pac-10). Mustafa Shakur scored 19 for the Wildcats (10-6, 3-3), who lost to Oregon State on Thursday.
Syracuse 77, No. 25 Cincinnati 58
Cincinnati - Gerry McNamara scored 29, and Demetris Nichols added 16 to help Syracuse (15-2, 3-0 Big East) win its 12th straight.
Copyright 2018 The Associated Press. All rights reserved. This material may not be published, broadcast, rewritten or redistributed. We strive to uphold our values for every story published.