Those who made New Year's resolutions to quit smoking have had two weeks to contemplate the decision.
Is it worth the hassle? Can they stick to it?
Similarly, Lawrence itself is experiencing the effects of such a decision nearly two years after banning smoking in "all enclosed public places."
"It wasn't my idea, and I wasn't on board at first," said Lawrence Mayor Boog Highberger. "But I think this is the most popular decision I've made since I've been on the City Commission. I know in certain circles it's not, but it is if you count the population as a whole."
While the commission instituted the ban based on public health concerns, the main opposition continues to stem from those citing economic fallout. Three types of businesses seem to be the most vulnerable: bars, restaurants and music venues.
"Downtown is taking a major hit," Nick Carroll said. "There are a handful of places right now that are contemplating, 'Is it even worth being in business?'"
Carroll is in a unique position to gauge the effects. He owns The Replay Lounge and The Jackpot Saloon. Replay has an ample outdoor patio in back, while Jackpot has none.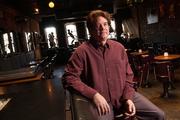 He said Replay's inside bar revenue was down about 60 percent and the outside up about 60 percent since the ban.
"It used to be even in the summer," he said. "Now, even though it's winter, the back bar is stronger."
Though Replay was the first music venue to feature an outdoor area, he said the amount of smoking clients gained by this setup didn't offset the overall financial decline.
"Everything else is going up," he said. "All expenses are going up. The city is growing. The sales should be up 5 to 10 percent. But they're not. If you don't have growth, you're losing."
Like L.A.

Lawrence's ban is still among the harshest in the nation, falling in line with cities such as Los Angeles and New York. Unlike smaller towns (such as Ames, Iowa) that allow smoking at restaurants and bars after a certain time in the evening, the law is no more lenient toward indoor businesses than if the establishments were within a commercial airplane.
A number of venues created an outdoor patio area or expanded an existing one.
"I have a lot more people on the patio now, but I had to spend a lot more money on the patio, putting the roof on, getting the heaters and that kind of stuff," said Rick Renfro, owner of Johnny's Tavern.
Renfro said his sales were down 15 to 20 percent from 2003, yet he was able to recoup most of that by raising his prices. That and the ban combined to drive away some regular customers - a group he prefers to call "professional drinkers."
"I think a lot of them don't like people telling them what to do as much as anything," he said. "It's not just the smoking. I raised my prices so now they can go to the liquor store and buy a six-pack for what they can buy two beers here.
"I think only 20 percent of the national population smokes now. My little, small Johnny's universe of people, it's probably more like 60 to 70 percent. ... Johnny's is going to survive, and I'll get by, but it just makes it a heck of a lot harder to do that."
What about the music?

Some claim Lawrence's music scene has borne the brunt of the smoking ban.
"I can easily say we're not the same music scene," said Carroll, whose clubs feature live music several nights a week. "Look at Bottleneck's calendar and tell me if it's the same. Look at the Jackpot; we're not doing what we were a year and a half ago. We know we can't pay those big guarantees because we're not certain we can fill the room."
Carroll said many of the national acts that played at one of Lawrence's many concert spots their first time through the Midwest are now bypassing the city to play at similar clubs in Kansas City.
"This (smoking ban) is the worst-case scenario: We're the first ones who are doing it and we're the only ones who are doing it in the state," he said.
Rick McNeely, longtime owner of The Jazzhaus, disagreed that bands were skipping Lawrence for more smoker-friendly locales.
"We had a pretty rough couple of months at first, but it seems to all be sorting itself out," he said. "Everybody is getting used to it. That's the way people say it is everywhere. Whenever there's a smoking ban, the clubs really get hit hard for a few months, then it all kind of works itself out."
But he said the club's out-of-town crowds were thinning because of the ordinance.
"We did lose a lot of our south Johnson County business that we were getting," McNeely said. "For those Blue Valley kids and those at 135th and Roe, it's faster and safer to come to Lawrence than it is to go to Westport, in addition to a whole lot more fun. But I do think it's gradually starting to filter back - so to speak."
Regardless of the economic repercussions, he approved of the prohibition.
"It makes it better for everyone," he said. "Who wants to smell like an ashtray?"
Health benefits?

Measuring the short-term health benefits of the ban is a little more tricky.
"In order to see the difference from an environmental change like the indoor smoking ban, you have to have organized research both before and after the ban," said Dr. Steve Bruner of Lawrence Family Medicine & Obstetrics.
"Several good studies now have shown that an indoor smoking ban dramatically reduces the incidence of heart attack (27 to 40 percent) within the short time of the institution of a ban. In Lawrence, it's very difficult to study that, because we're not an isolated community. People with heart disease go to multiple hospitals around the area, and that's further complicated by the fact that Lawrence Memorial has a new heart program that occurred simultaneously with the ban."
As for the long-term benefits, Bruner cited statistics by the National Cancer Institute that attribute 3,000 deaths from lung cancer per year attributed to secondhand smoke.
"I'm not like an anti-smoking Nazi at all," Jazzhaus owner McNeely said. "I'm not crazy about sitting around people smoking cigarettes, but I don't get up and tell them to move or put it out. As far as an individual health issue, I know I'm going to be 55 in a few months. How healthy can THAT be?"
Copyright 2018 The Lawrence Journal-World. All rights reserved. This material may not be published, broadcast, rewritten or redistributed. We strive to uphold our values for every story published.