The Seabury Academy boys basketball team put on a clinic during the second half of Friday night's battle with Kansas City (Mo.) Barstow.
Unfortunately for the Seahawks, it was titled "How to lose your poise come crunch time."
Too many fouls, too many rushed shots and too little offense quickly undid a solid first half, ultimately taking their toll in a 45-36 loss at Seabury - the Seahawks' third in four games since the holiday break.
"It became a pretty intense environment, and we didn't respond to it well," Seabury coach Marcus Heckman said. "The game was called pretty tight in the second half, and I think we let that negate (being aggressive). We were very aggressive in the first half, and we were rewarded for it."
The Seahawks (4-5) built a 23-17 lead at the half. Seniors Adam Davis and Grayson Dillon combined for 18 of those points. However, Dillon picked up three fouls before the break, and both he and Davis misfired at the free-throw line in the final 51 seconds, denying Seabury a chance to extend its lead to double digits.
It proved to be a sign of things to come. Dillon's fourth foul sent him to the bench with 6:04 left in the third quarter, Davis and the rest of his teammates suddenly turned cold, and the Seahawks managed just four field goals the entire second half as Barstow (3-7) seized control.
"We could tell the game shifted, and we needed to play within a different set of circumstances, and we didn't do it," Heckman said.
Davis finished with a game-high 17 points, and Dillon added 11 before fouling out.
Ras Ricketts paced the Knights with 13 points.
Barstow 40, Seabury girls 22
Offense also proved to be in short supply in the first game of Friday's doubleheader, as the Seahawks' girls managed more turnovers (26) than points.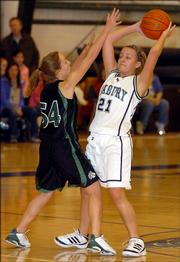 "If you can't score more than that, it's going to be tough. Especially against a team like Barstow," Seabury coach Nick Taylor said.
A stout defensive effort made things interesting in the first half, and a quick bucket by senior Laura Hoffmann to open the third quarter pulled the Seahawks (4-5) within 15-13.
However, the Knights (5-5) promptly used a 15-1 run to put the game away.
Hoffmann and fellow senior Lindsey Ahlen each scored six points to lead Seabury, which has failed to break the 30-point barrier in four straight losses.
"A lot of times, we just come down and throw up shots," Taylor said. "If we would just let the offense work for us and take what the defense gives us, we'll be better."
Copyright 2018 The Lawrence Journal-World. All rights reserved. This material may not be published, broadcast, rewritten or redistributed. We strive to uphold our values for every story published.