Pittsburgh — DePaul learned on its first trip to Pittsburgh for a Big East game that the Steelers aren't the only team in town capable of playing a physical game in January.
Aaron Gray scored 20 points, and Carl Krauser had 19 for No. 12 Pittsburgh, which shook off a 13-point deficit to remain one of three unbeatens in Division I with a 73-65 victory Thursday night.
"I expected this," said Krauser, a senior guard who announced last spring he was turning pro but changed his mind. "This is what I came back for. I told these guys that we wanted to be unbeaten now, and then go one game at a time in the Big East."
Pitt, unranked as late as two weeks ago, is 13-0 for only the fourth time in its 100-year basketball history to join No. 1 Duke (15-0) and No. 2 Florida (15-0) as the only major unbeatens.
First-year DePaul coach Jerry Wainright praised Krauser profusely when his Richmond team played in Pittsburgh several years ago, so Krauser's strong play - he had six assists and five rebounds - didn't surprise him.
What did catch Wainwright unprepared was how rough-and-tumble Pitt was for a team that starts only one senior - and ended the game with only one player having more than two fouls.
"Maybe I should give coach Cowher and the Steelers a call and see if we can play them a scrimmage while we're here," Wainwright said, in a thinly veiled criticism of the officiating. "I wonder if there would be as much hitting in that game."
Pitt went 20-of-28 at the free-throw line to DePaul's 5-of-8, and Wainwright appeared to question why there was such a big disparity.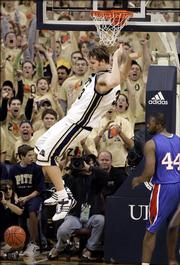 "We're not good enough to be up by 13 on anybody," he said. "After that, you have to earn some baskets and get to the free throw line and we didn't do that."
No. 11 UCLA 63, Washington State 61
Los Angeles - Arron Afflalo scored three of his 18 points in the final 28 seconds, and UCLA escaped with its 11th victory in 12 games. The Bruins (14-2, 4-1 Pac-10) beat the Cougars (9-4, 2-2) for the 48th time in 49 meetings in Los Angeles. Josh Akognon led Washington State with 25 points, all in the second half including a career-tying six three-pointers.
No. 13 Washington 86,
USC 77
Los Angeles - Brandon Roy had 23 points and 13 rebounds, and Bobby Jones got 16 of his 22 points in the second half for Washington, which nearly blew a 19-point lead.
Oregon State 75, No. 24 Arizona 65
Corvallis, Ore. - Nick DeWitz had 20 points on 7-of-9 shooting, and Oregon State lost a 22-point second-half lead, then held off Arizona. Chris Stephens and Sasa Cuic each added 13 points for the Beavers (9-6, 2-2 Pac-10).
Copyright 2018 The Associated Press. All rights reserved. This material may not be published, broadcast, rewritten or redistributed. We strive to uphold our values for every story published.