Washington — The Army closed a criminal investigation of abuse allegations by an Iraqi detainee last year, finding no reason to believe his claims, even though no Americans involved in the case were questioned, according to Pentagon records made public Thursday.
Internal Army documents about the Iraqi's capture on Jan. 4, 2004, and his subsequent interrogation at an unspecified facility at or near Baghdad International Airport were not reviewed, the records show, because investigators were told they had been lost in a computer malfunction.
The Iraqi, whose full name was blacked out in the documents by U.S. censors, is described as a relative of a former bodyguard for Saddam Hussein.
The detainee alleged that he was kicked in the stomach once and punched in the spine once by his interrogators. He said he was placed in front of a window air conditioner after being stripped naked and having a bag placed over his head. Cold water was poured over the bag every few minutes, he said, and he was dragged around a room by his arm.
The investigation records were among thousands of pages of records released by the American Civil Liberties Union, which obtained them from the Defense Department as part of a Freedom of Information request.
Army spokesman Paul Boyce said more than 500 investigations have been conducted on allegations of detainee abuse and that so far at least 251 military members have been court-martialed or given other forms of punishment.
"This effort by the U.S. Army Criminal Investigation Command demonstrates the Army's continuing and tireless commitment to investigate any allegation of detainee abuse by any unit or soldier, and to locate possible witnesses to allegations of detainee abuse," he said.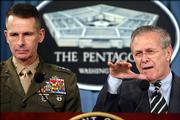 The documents include numerous references to investigators being blocked from a thorough investigation, yet the matter was closed a final time on June 17, 2005, by the Army Criminal Investigation Command.
A Feb. 26, 2005, report said that even though the Iraqi who made the abuse allegations had given a detailed description of the interpreter who was present, as well as others, "no effort was made to identify and interview the interrogators and screening personnel who were working" at the screening facility.
The case was initially closed Oct. 27, 2004, about three months after it was opened. A memo explaining the decision said records to refute or substantiate the alleged abuses "could not be located."
Copyright 2018 The Associated Press. All rights reserved. This material may not be published, broadcast, rewritten or redistributed. We strive to uphold our values for every story published.