On Oct. 2, Seattle lost in Washington in overtime. By NFL standards, that's ancient history - a game that might as well have been played last year or last century.
The same goes for the other three matchups this weekend, all reruns of regular-season games. But throw those earlier matchups out. It's not who you play but when you play them - the time, the health of both teams and the circumstances.
This week, it's the circumstances - the second round of the playoffs. So Seattle, at home this time, is a nine-point favorite over the team that beat it in Week 4 even though the Redskins have won six straight games.
"Our motivation is to keep proving the naysayers wrong," Washington safety Ryan Clark said. "They find something every week, some reason why we shouldn't be good or why we shouldn't win. 'They won, but is it enough for next week?' Well, next week is next week, it's a different game."
Indeed it is: The home teams are all favored even though three of last week's winners were on the road.
Washington (plus 9) at Seattle
The Seahawks won 11 straight after the Redskins beat them. They lost their final game at Green Bay, where the only business was to ensure that Shaun Alexander got his record-breaking 28th touchdown and enough yards to secure the NFL rushing title.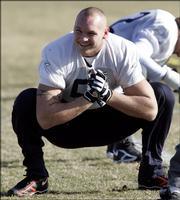 Washington won last week in Tampa with only 120 yards of offense, getting one touchdown after an interception and another on a fumble return.
Clark is right. This is a different week. The spread is too big even though the Seahawks are 8-0 at home. But they win.
SEAHAWKS, 20-14
New England (plus 3) at Denver
Everyone fears the Patriots, who are trying to become the first team to win three straight Super Bowls.
These certainly aren't the same Patriots who lost, 28-20, on Oct. 16 in Denver, trailing 28-3 and mounting a futile comeback. That team still was missing Tedy Bruschi and a raft of injured players; this one has Bruschi (perhaps), and many of the others are back.
Bruschi, who sat out last week's 28-3 victory over Jacksonville because of a calf injury, is one of the important returning parts because the run defense has improved with his return.
Beyond that, go with the factor that worked last week - QB playoff experience. Tom Brady over Jake Plummer.
PATRIOTS, 24-23
Pittsburgh (plus 9) at Indianapolis
The Colts won, 26-7, on Nov. 28 at the RCA Dome, taking the wind out of the Steelers with a Peyton Manning-Marvin Harrison 80-yard TD pass on their first play.
A lot has happened since then, including the death of Tony Dungy's 18-year-old son, James.
That tragedy has brought the Colts together. They entered the playoffs as the favorite in the AFC and remain that way.
Playoff experience? Both teams have a lot, much of it negative. The Steelers have lost four AFC title games at home under Bill Cowher, so it's just as well they are on the road.
But not against this team at this site.
COLTS, 28-17.
Carolina (plus 3) at Chicago
The Chicago defense probably is the single-best unit on any of the eight teams left. (OK, maybe the Colts offense.) And it got eight sacks in the 13-3 victory over the Panthers on Nov. 20.
But the Bears depend on defense to score, even with Rex Grossman at quarterback. Grossman, who has been injured most of his career, still is a playoff neophyte. Last week, the Panthers handled another one of those, Eli Manning.
Other factors favor Carolina.
The long-range forecast is for relatively calm weather; Carolina is 7-2 on the road and playing its best right now. It clinched its playoff berth with a 44-11 victory in Atlanta, then shut out the Giants, who scored the third-most points in the NFL during the regular season.
PANTHERS, 13-3.
LAST WEEK: 4-0 (spread) 4-0 (straight up).
Copyright 2018 The Associated Press. All rights reserved. This material may not be published, broadcast, rewritten or redistributed. We strive to uphold our values for every story published.