SAN ANTONIO — The Detroit Pistons returned to the site of their most painful defeat and handed the defending NBA champions another lopsided loss.
Rasheed Wallace scored 27 points and had 10 rebounds to lead Detroit to a 83-68 victory Thursday night over the Spurs in the Pistons' first visit to San Antonio since losing Game 7 of the NBA finals last June.
Detroit dominated from the start of Thursday's game between the teams with the league's two best records. The Pistons, now 28-5, used sharp shooting and stingy defense to build a 20-point lead in the first half before the Spurs could get anything going.
"We knew it was going to be a fun one," said Detroit point guard Chauncey Billups, who finished with 14 assists. "I personally wanted to get Sheed aggressive. When our big men are aggressive, we get buckets in the paint. We're just really difficult to play."
The victory gives Detroit a sweep of the season series between the teams. The Pistons won at home, 85-70, on Christmas Day in what had been the Spurs' lowest-scoring game. Detroit won in San Antonio for the first time since April 1997, before Tim Duncan became a member of the Spurs.
Lakers 99, Cavaliers 98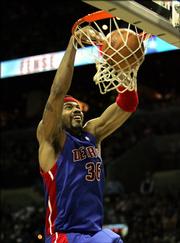 Los Angeles - Kobe Bryant scored six of his 27 points in the final 90 seconds, including the go-ahead basket with 8.6 seconds left, and Los Angeles beat Cleveland. Bryant, who had scored at least 40 points in his previous five games, sprained his right wrist in the second quarter and sat out the first five minutes of the fourth period before taking over in the late going. X-rays of his wrist at halftime were negative.
Bryant's long jumper near the end gave the Lakers a 99-97 lead. Bryant then fouled LeBron James with 5.2 seconds to play, and James made his first three throw before missing the second. Cleveland's Drew Gooden got the rebound, but after a timeout, James missed from about 18 feet away as the buzzer sounded.
Suns 112, Warriors 99
Phoenix - Steve Nash had 20 points and 16 assists, and Phoenix won for the eighth time in 10 games, leading from the opening basket in a victory over slumping Golden State.
Shawn Marion had 21 points and 12 rebounds, and Boris Diaw scored 20 for the Suns, whose only losses in the last 10 both came in triple-overtime.
All five starters scored in double figures for Phoenix. The Suns shot 52 percent from the field.
Copyright 2018 The Associated Press. All rights reserved. This material may not be published, broadcast, rewritten or redistributed. We strive to uphold our values for every story published.