Under pressure from civil-rights advocates three years ago, the NFL established a rule requiring teams to interview at least one minority candidate before hiring a head coach.
But this year, the so-called "Rooney Rule" is being supplanted by one of football's more time-honored tenets: If it works, consider copying it.
In a breakthrough year for black coaches, the Chicago Bears' Lovie Smith and Cincinnati Bengals' Marvin Lewis led recently downtrodden teams to the playoffs. Tony Dungy's Indianapolis Colts flirted with a perfect season.
Now their success - Smith and Dungy finished 1-2 in AP Coach of the Year voting - might be making less-successful teams more receptive to minority candidates.
"I don't think it's that simple," says Atlanta Falcons executive vice president Ray Anderson, a former agent to Dungy, Lewis and other top coaches. "But historically, there have been some 'copycat' tendencies in the league."
There are six black head coaches in the NFL: Smith, Dungy, Lewis, Arizona's Denny Green, Cleveland's Romeo Crennel and new Kansas City Chiefs coach Herman Edwards.
And judging by the way teams have conducted their coaching searches this offseason, more might be on the way - if not this year, then down the road.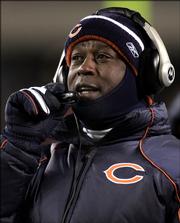 With an unusually high number of open head-coaching jobs this offseason, several teams have gone beyond NFL requirements to interview multiple minority candidates.
Even if most teams still end up hiring white coaches, the trend is seen as progress.
Cyrus Mehri, a Washington, D.C.-based lawyer who partnered with the late Johnnie Cochran to pressure the NFL into establishing minority-hiring guidelines for teams after the 2002 season, expects to see a record number of minority-coaching interviews this offseason.
Mehri says teams might finally be getting the message: They shouldn't interview minority candidates simply because they have to. They should want to, because it might improve their teams.
"If you give people the opportunity and open your mind to a broader slate of candidates, you can get results," Mehri says.
In October 2002, Cochran and Mehri issued a report titled, "Black Coaches in the National Football League: Superior Performance, Inferior Opportunities." They threatened to sue if the NFL didn't take steps to help minority-coaching candidates.
The NFL hastily formed a diversity committee, chaired by Pittsburgh Steelers owner Dan Rooney. Rooney's rule: Before hiring a head coach, a team must interview at least one minority candidate, unless it is promoting a current assistant coach.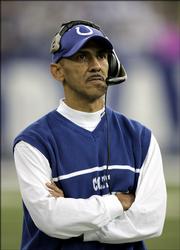 Mehri - legal counsel to the Fritz Pollard Alliance, an organization named after the NFL's first black head coach and set up to help develop minority-coaching candidates - said their initial tone was "slightly adversarial" and didn't sit well with owners or fans.
"When the rule came out three years ago, there was a little bit of a pushback on it," Mehri said. "Now, people see the results."
They also saw what happened to Detroit Lions general manager Matt Millen.
Millen didn't interview a minority candidate before hiring Steve Mariucci in 2003. As criticism mounted, Millen couldn't find a minority candidate who would agree to what obviously would have been a token interview. The league fined Millen $200,000.
Now the Lions are looking for Mariucci's replacement, and reportedly have spoken to at least three minority candidates: Bears Hall of Fame linebacker Mike Singletary, Browns offensive coordinator Maurice Carthon and New York Giants defensive coordinator Tim Lewis.
According to media reports, Carthon also has interviewed with the Packers and Saints; Lewis has interviewed with the Packers and St. Louis Rams; Bears defensive coordinator Ron Rivera, who is Hispanic, has interviewed with the Packers and Rams; New York Jets defensive coordinator Donnie Henderson has interviewed with the Rams and Saints; and the Vikings interviewed Colts assistant head coach Jim Caldwell and their own defensive coordinator, Ted Cottrell.
The Vikings and Packers ultimately hired white coaches; Minnesota introduced Brad Childress last week, and Green Bay hired Mike McCarthy on Thursday.
"It is progress when Maurice Carthon and Tim Lewis are getting multiple shots," Anderson said. "The rule was not intended to guarantee minorities a job. The rule was intended to give opportunity."
After firing coach Dom Capers, the Houston Texans interviewed wide receivers coach Kippy Brown, who is black.
Brown is considered a long shot to get the job. But a few years ago, he might not even have gotten the interview - which, at the very least, might give him more name recognition around the league.
"There was a time when guys that looked like me didn't get those opportunities," Brown said. "And now it's happening, so it's positive."
But the biggest sign of progress this week might have come from Kansas City, where the Chiefs sent a draft pick to the Jets to get Edwards.
Edwards, though respected in football circles, has a career 39-41 regular-season record.
One of the main complaints advanced by Cochran and Mehri three years ago was that the few black coaches who were hired were "afforded far less room for error than similarly situated whites."
Edwards, meanwhile, wants to put the issue to rest.
"We're getting to the point where you don't say I'm an African-American coach," Edwards said. "I'm just 'Coach."'
Copyright 2017 The Associated Press. All rights reserved. This material may not be published, broadcast, rewritten or redistributed. We strive to uphold our values for every story published.