Cape Canavarel, Fla. — Trailing a drag parachute, a world-renowned aircraft made history and attracted considerable attention Thursday as it gently set down at the space shuttle's landing strip - but it was not a space shuttle.
And it was not a military jet. In fact, it was not a government craft of any kind.
It was the weird flock of 13 linked fuel tanks known as the Virgin Atlantic GlobalFlyer, and its arrival and looming adventure marked a notable widening of NASA's mission and of Florida's campaign to land a piece of the private aerospace research and tourism industry.
"This symbolizes a whole new way of doing business," said Winston Scott, a former shuttle astronaut who now serves as executive director of the Florida Space Authority.
And so, here came the single-engine, single-seat, double-tailed GlobalFlyer, repositioned by famed pilot Steve Fossett from its base in Salina, Kan., to its temporary home among the mammoth spaceships of the Kennedy Space Center.
The symbolism is important, he said, but so is the space center's elongated, 15,000-foot runway. To get airborne, the GlobalFlyer needs a lengthy takeoff roll - and not many runways that long are available.
In March, Fossett piloted the GlobalFlyer on the first solo nonstop, nonrefueled flight around the world - a 22,928-mile journey that began and ended in Salina.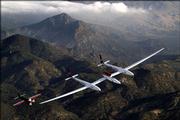 By the end of February, if all goes well, he will attempt to set the absolute distance record for any aircraft - the longest nonstop and nonrefueled flight by an airplane or balloon.
The craft will take off from the space center, the first time that the world's most famous launch facility has served a private mission of this magnitude.
The rest of the plan: Fossett will head east, circumnavigating the globe, crossing the Atlantic a second time, landing at Kent International Airport near London after flying 26,084 miles in about 80 hours.
Copyright 2018 The Lawrence Journal-World. All rights reserved. This material may not be published, broadcast, rewritten or redistributed. We strive to uphold our values for every story published.