Free State High's boys swimming and diving team had its hands full at the Free State triangular Thursday against a tough Washburn Rural team.
The Junior Blues won all but two events and held off FSHS for the team title by a slim six points.
Rural won with 138 points. FSHS was second at 132 and Bonner Springs third with 59.
"It was fun - the competition makes you go faster," Free State coach Annette McDonald said. "I do attribute some of their (FSHS) fast times to having the competition. It wasn't just them swimming out there and somebody else not being right there with them. They were able to just stick with them and give them a good race."
Free State had a swimmer or relay team finish second in eight of the first 11 events and at least two top-five finishers in each of the other three events.
The Firebirds finally cracked the top spot when the 400-yard freestyle relay team capped off the night with a win.
"That was huge," said Free State's Brian Hatesohl, who was on the winning 400-yard freestyle relay team. "We knew it was : a close meet, like we were within six points right up there till the end. And this year, we put a lot of emphasis on the relays, especially that last one. That's kind of like the main event, if you will, and to win that, that's great. It's always nice to win one."
It was a good night all around for Hatesohl. He took second in the 50 freestyle, his only individual event, and was on the second-place 200-yard medley relay and 200-yard freestyle relay teams.
"We've been working hard in practice. We've got the technique down, we've got the fitness base down," Hatesohl said. "Now it's just making sure everything clicks with each race, (and) making sure that you've got the perfect technique - you get the right start, the right turns - just all of the finer details."
Hatesohl's teammate on the 400 freestyle relay team, Cody Briggs, also had his share of strong individual performances.
Briggs was second in the 200 individual medley and the 100 butterfly.
"I was a little disappointed with my 100 fly. I guess I need to do a little bit more work," Briggs said. "But it was a pretty good meet, I took second, I cut a little time. I was hoping to cut a little more, but that's something for next meet."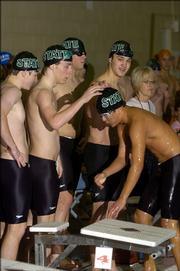 Free State's divers had a huge night as well, as all four divers improved on their season best by about 20 points each.
Leading the way was Todd Lee, who finished second with 182.90 points - an improvement of 18.95 points from his previous best.
Hatesohl said the Firebirds' strength was depth.
"A lot of teams have that one big-talent guy that has been swimming for years and years that kind of puts them over the top and gets them into first place," Hatesohl said. "This year, we have a lot of strong swimmers, we just don't have that one guy that can really put us over the top. : We just can't seem to get that first-place finish."
Copyright 2018 The Lawrence Journal-World. All rights reserved. This material may not be published, broadcast, rewritten or redistributed. We strive to uphold our values for every story published.