Lawrence is one mean city.
That's the conclusion of the National Homeless Coalition, which has rated Lawrence the second meanest city in the country when it comes to treatment of the homeless.
Only Sarasota, Fla., is meaner, according to the coalition. Little Rock, Ark., also is mean, but not as mean as Lawrence. It ranked No. 3 among the top 20 mean cities.
"My challenge to Lawrence is that if it wants to continue to be known as a progressive city - which it is - it needs to quit criminalizing homelessness and arresting someone for camping, for sleeping, for sitting in the doorway," said Michael Stoops, acting director of the Washington, D.C.-based coalition.
The ranking was announced Wednesday on the coalition's Web site, www.nationalhomeless.org, and during a national telephone news conference.
Even some of Lawrence's homeless advocates were taken aback.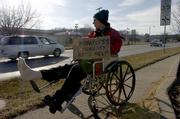 "The city is not an environment that is mean," said Loring Henderson, director of the Lawrence Open Shelter. "There are people who are outspoken about the issues, but I think it was an inappropriate finding."
Laws draw attention
The coalition ranked the cities by considering criteria that included the number of anti-homeless laws each had, the enforcement of those laws, penalties for violations and the general political climate. The coalition, along with the National Law Center on Homelessness & Poverty, has been issuing the rankings over the past few years. This is Lawrence's first appearance on the list.
What put Lawrence near the top was the City Commission's passage of so-called "civility" ordinances following complaints from downtown merchants that homeless people were intimidating customers and trashing their surroundings, including the rooftops of downtown shops.
Some merchants wanted a requirement that homeless people present special ID cards to receive services.
The "civility ordinances" included an aggressive panhandling law, a law prohibiting trespassing on rooftops and a law limiting sleeping or sitting on city sidewalks.
Stoops said he had traveled to Lawrence a number of times in the past several years and had friends here. He also has received Kansas University students who have done volunteer work for the coalition in Washington. In addition to his own knowledge of the city and its homeless issues, the coalition has monitored local media accounts, local attitudes toward the homeless and passage of laws.
"Quite frankly, I was shocked that there was such an anti-homeless sentiment in Lawrence and Douglas County," Stoops said.
Making progress
One of Stoops' acquaintances in Lawrence is Helen Hartnett, a KU associate professor in the School of Social Welfare. Hartnett, an advocate for the homeless, said she has mixed emotions about the ranking. She is co-chairwoman of the recently formed Community Commission on Homelessness. Because the commission is just getting started and hasn't addressed the coalition report, she emphasized that her opinions about the ranking are strictly her own.
Homeless in Lawrence
The number of homeless people in Lawrence has been fairly consistent for several years, if past attempts to count them have been accurate. A count in 1998 showed 143 homeless people. A count in 2002 showed that number down slightly to 134. A current city task force has estimated there are between 150 and 200 people without shelter. Those who work with the poor or homeless say it is difficult to know the number of people needing homes because many are transient.
Hartnett said she understood the coalition's problem with the passage of laws targeting the homeless.
"At the same time, the city has passed the ordinances, the city has made enormous progress in providing services and attempting to address the complex issue of homelessness," she said.
Both Henderson and Hartnett also noted that the city has places for the homeless to go 24 hours a day and that money was recently allocated to hire a team of case managers to work with the homeless.
Hartnett said she hoped the ranking didn't discourage the community from doing more for the homeless and increase apathy.
"I also don't want to see a rating like this increase people's desires to control the homeless any more," she said.
City Commissioner Mike Amyx, a downtown businessman, said he wasn't bothered by the ranking and thought the laws that were passed were necessary.
"I'm just going to continue doing the things I'm doing and deal with the concerns and problems that people bring to me and see if we can come up with some kind of way to deal with them," Amyx said.
Seeking help
On Wednesday afternoon, a 53-year-old woman, who asked not to be identified, sat in a wheelchair at the corner of Sixth and Michigan streets, holding a cardboard sign that read "homeless, hungary, need help." She wouldn't give her name, but said she and her husband were recently kicked out of their home in Topeka by the landlord. They are now staying with a friend in Lawrence and seek a place to live.
"People in Lawrence have been pretty good," the woman said. "People have offered money."
Seconds later, a man stopped his car and gave the woman a $5 bill. Another man stopped as he walked by, gave the woman a $10 bill, saying he, too, had been homeless and was currently staying in a nearby motel.
Copyright 2017 The Lawrence Journal-World. All rights reserved. This material may not be published, broadcast, rewritten or redistributed. We strive to uphold our values for every story published.