New York — Bruce Sutter was elected to the Hall of Fame on Tuesday, just the fourth relief pitcher given baseball's highest honor.
Sutter, the first pitcher elected to the Hall with no career starts, was listed on 76.9 percent of the ballots cast by 10-year members of the Baseball Writers' Association of America. The split-finger pioneer collected 400 of a record 520 ballots.
"It was a call that you always hope for, but you never really expect it to happen," Sutter said, adding that he cried when he received the notification. "I didn't think it would affect me or hit me as hard as it did."
Players needed 390 votes (75 percent) to gain election. Boston Red Sox slugger Jim Rice fell 53 short, finishing second with 337 votes (64.8 percent), one ahead of reliever Goose Gossage.
Sutter was on the ballot for the 13th time, the first player elected so late since Ralph Kiner in 1975. Rice was appearing for the 12th time and has three years remaining on the writers' ballot. Gossage was on the ballot for the seventh time.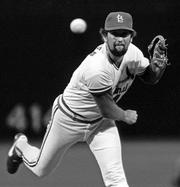 It might be difficult for Rice and Gossage to gain votes next year, when Cal Ripken Jr., Tony Gwynn and Mark McGwire appear on the ballot for the first time. Each voter may select up to 10 players.
The other players in the Hall who primarily were relievers are Hoyt Wilhelm (elected in 1985), Rollie Fingers (1992) and Dennis Eckersley (2004).
Andre Dawson was fourth with 317 votes, followed by Bert Blyleven (277), Lee Smith (234), Jack Morris (214), Tommy John (154) and Steve Garvey (135).
Pete Rose, baseball's banned career hits leader, received 10 write-in votes in what would have been his final year of eligibility. Stricken from the ballot after going on the banned list for betting on Cincinnati while managing the team, Rose was written in on 249 of 7,207 ballots (3.5 percent) over 15 years.
Sutter was a six-time All-Star and the 1979 NL Cy Young Award winner, compiling 300 saves during a 12-season major-career with the Chicago Cubs, St. Louis and Atlanta. He is 19th on the career saves list.
When he first appeared on the ballot in 1994, Sutter received 109 votes (23.9 percent). His percentage rose to 66.7 last year, when Wade Boggs and Ryne Sandberg were elected and Sutter fell 43 votes short.
Sutter will be inducted into the Hall during ceremonies on July 30 in Cooperstown, N.Y. The Veterans Committee doesn't vote this year, but a special Negro leagues and pre-Negro leagues selection committee meets Feb. 27 in Tampa, Fla.
Copyright 2018 The Associated Press. All rights reserved. This material may not be published, broadcast, rewritten or redistributed. We strive to uphold our values for every story published.