Topeka — Gov. Kathleen Sebelius on Monday called for doubling prison time for child sex offenders, and recruited former Kansas State University football coach Bill Snyder to head a new program to mentor children.
Sebelius rolled out several other proposals during the State of the State speech, and talked at length of Kansas' financial turnaround.
"Hope has returned to the heartland," Sebelius said in a 25-minute speech to a joint meeting of the House and Senate as the 2006 legislative session started.
"Kansas is moving in a new direction and Kansans now have more tools to make the most of their own lives," she said.
Campaign kickoff?
Democrats gave Sebelius, a Democrat, high marks for the speech, but Republicans said it was long on self-praise and short on specifics.
"This was the kickoff to the Sebelius re-election campaign," Senate Majority Leader Derek Schmidt, R-Independence, said.
"It was about testing themes, and that's why we saw very little substance and very little commitment to historical accuracy," he said.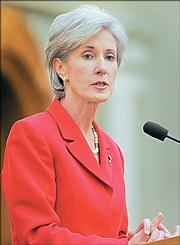 Sebelius is expected to seek re-election in November.
House Speaker Doug Mays, R-Topeka, said he agreed with several of Sebelius' proposals, and added that Kansas is in much better shape now than it was several years ago.
But, he added, "I credit the people of Kansas, not any one party or any elected official or even a body of elected officials. If government doesn't get in the way, the genius of the people of Kansas is, they'll make out OK."
Accomplishments touted
Sebelius said her administration helped stabilize state government finances through cuts and efficiencies and without a tax increase. She did not mention that she proposed a tax increase in 2004 for schools that was rejected by the Legislature.
Since taking office, she said, the state has made a historic investment in education and also expanded opportunities for military families.
"We've been through a valley. We now stand atop a hill, looking toward the horizon and all the promise it has to offer," she said.
Upstaged earlier in the day with a legislative study that said the state should increase school funding by about $400 million, Sebelius vowed to work with lawmakers on funding and accountability audits.
"It isn't just about money," she said. "We can't spend our way to excellence." But she provided no details on school finance.
On health care costs, Sebelius made no mention of skyrocketing Medicaid expenses, but offered a $3.5 million proposal to cover 15,000 uninsured children.
On criminal justice issues, Sebelius proposed doubling sentences for child sex offenders and requiring all repeat sex offenders to remain under surveillance through electronic monitoring devices when they are released from prison.
She also proposed a "Kansas Mentors" program to be headed by Snyder, reducing business taxes, and including a voluntary tax check-off for military families.
During the speech, Sebelius welcomed Snyder, former chairman of the Joint Chiefs of Staff Richard Myers, and Janet Wisdom, the widow of Staff Sgt. Clinton Wisdom, a Kansas National Guard soldier who was killed in Iraq.
Reaction mixed
State Rep. Kenny Wilk, R-Lansing, said Sebelius delivered a "a great speech, but there wasn't much policy matter in it."
Correction
An article in Tuesday's Journal-World stated Gov. Kathleen Sebelius sought to double prison time for child sex offenders and require them to wear electronic tracking devices once released from prison. The tracking device requirement would apply to all repeat sex offenders, not just those whose victims were children.
But state Rep. Barbara Ballard, D-Lawrence, said, "The governor was hitting on everyday issues, and how we are doing in Kansas and how we can make it better."
State Sen. Marci Francisco, D-Lawrence, said Sebelius was summing up her first term. "You have to acknowledge that she has gotten things done as a Democratic governor with a Legislature that has a Republican majority," she said.
State Rep. Tom Holland, D-Baldwin, agreed, saying, "This is a governor who is doing things to make people's lives better."
But state Rep. Tom Sloan, R-Lawrence, said he wanted more substance from Sebelius.
"The governor gave an exceptionally good political speech, she wrapped herself in the flag," Sloan said. "I would've liked to have heard more on where we might be going in education, how do we address the water quality problems, and take advantage of energy opportunities," he said.
Schmidt said Sebelius was taking credit for things that Republicans helped her accomplish.
"It was a whole lot of bragging going on tonight. I thought for awhile that the governor was going to say her administration helped Al Gore invent the Internet," he said.
Sebelius' proposals at a glance
Taxes
Elimination of the property tax on new business machinery and equipment purchased after Jan. 1, 2007. "It will encourage Kansas companies to invest in new technologies to better compete around the world ..."
Education
A multi-year funding plan with audits of schools to ensure accountability. "I again stand ready to work with you to meet this challenge with a multi-year effort to ensure all Kansas children have an education that will take them as far as they can dream."
Role models
Launching "Kansas Mentors" to be headed by former Kansas State University football coach Bill Snyder who will recruit volunteer mentors for children. "Every Kansas child deserves someone he can look up to."
Health coverage
Spending $3.5 million to provide health coverage for children from birth to 5-years-old who currently are uninsured. This will cover an estimated 15,000 children. "We can give our children the chance to grow up healthy and pursue all the opportunities life has to offer."
Sex offenders
Double prison sentences for child sex offenders and require them to wear electronic tracking devices once released from prison for the rest of their lives. This will place roughly 225 sex offenders under lifetime surveillance. "These tracking bracelets will allow law enforcement officers to monitor their locations at all times."
Military
Add a new tax check-off that will allow Kansans to donate to military families. "This is a great way to show our support for the soldiers, sailors, airmen and women, and Marines, whose service allows us to pursue all the opportunities life has to offer."
Copyright 2018 The Lawrence Journal-World. All rights reserved. This material may not be published, broadcast, rewritten or redistributed. We strive to uphold our values for every story published.