If she ever makes sense of Medicare's new prescription drug program, Sandra Zender knows what she'll need it for - stress-relieving medication.
"It's been a pretty threatening process to sign up," Zender said.
After one week in operation, the federal government's new prescription drug program still has thousands of Kansans unsure how to choose among 41 different plans, which vary according to the drugs covered, premiums paid and deductibles required.
And the complexity has created unexpected financial hardships for people who already are enrolled.
"There are just so many choices to make," said Mary Rau, a rural Lawrence resident. "They could have made it much simpler."
Confusion expressed
The confusion was manifest Monday during a meeting at the Douglas County Senior Center to explain the enrollment process. Twenty-five people attended, including Rau and Zender.
Katie Glendening, a community services specialist at the center, said Medicare recipients need to make a decision by May 15. After that, the government adds 1 percent to the monthly premium for every month an individual delayed enrollment.
For example, if a person waited two years to enroll, his monthly premium would be adjusted upward by 24 percent over the average premium. That increase would be included in every monthly bill for as long as the individual is enrolled in the program.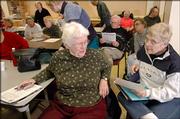 "That's kind of scary," said Sandy Hick, a rural Lawrence resident who attended the class. "You either pay now, or else they will really get you later."
New enrollees' problems
The program, which began Jan. 1, has been problematic even for people who have already enrolled.
A spokeswoman with the Centers for Medicare & Medicaid confirmed national reports that some enrollees have been hit with unexpected and unnecessary bills at pharmacies. Julie Brookhart said some people who have qualified for a reduced-deductible portion of the program are still being asked to pay the higher fee.
Brookhart said the agency's computer system hasn't been able to update people's eligibility as fast as people have been enrolling. She said that problem should be corrected this week, and that the agency has added personnel to help pharmacists by phone.
Bill Axcell, an owner and pharmacist at Jayhawk Pharmacy, 3501 Clinton Parkway, said he's encountering the situation two or three times a day.
"We're just going ahead and giving people the medicine at the lower price, and we figure we'll get it worked out as the system gets cleared up," Axcell said. "I don't want people leaving without their medicine."
Private insurance companies
Other pharmacists say they're also having problems with the private insurance companies that actually provide the Medicare plans. Tammy Willits, an owner and pharmacist with Lawrence-based Qualicare Pharmacy, 2336 Ridge Court, said many of those companies weren't prepared to start operations.
"We literally spent eight hours on hold and never talked to a real person," Willits said. "After the first two hours it became a matter of principle. We passed the headset around to different people so we could all get a lunch break."
Brookhart said Medicare officials have instructed the companies to add customer service staff members.
Axcell, though, suggested the bugs would be worked out of the program.
"It actually hasn't been as bad as I thought it would be," he said. "Here in another month, everything will be fine and people will be glad that they have the program."
Copyright 2018 The Lawrence Journal-World. All rights reserved. This material may not be published, broadcast, rewritten or redistributed. We strive to uphold our values for every story published.