Brian Hatesohl
Free State, Sr.
Boys swimming
What he did: Hatesohl won the 50-yard freestyle at Thursday's five-team home meet with a time of 24.60 seconds. He also swam a leg in a pair of second-place relay finishes - 200 individual medley relay and the opening leg in the 200 freestyle relay.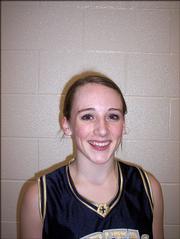 Kristie Tiegreen
Veritas Christian, Soph.
Girls basketball
What she did: Tiegreen averaged a double-double as the Eagles split two games. She had 15 points and 15 rebounds in Tuesday's loss at Topeka Cair Paravel, and came back with a 16-point, 16-rebound effort Friday as Veritas beat Chanute Christian to end a four-game losing streak.
Copyright 2018 The Lawrence Journal-World. All rights reserved. This material may not be published, broadcast, rewritten or redistributed. We strive to uphold our values for every story published.