At least city commissioners now know how much it would cost to fix persistent flooding problems in North Lawrence - $41 million.
But the new report doesn't give commissioners ideas how to pay for it, and that has North Lawrence residents worrying the report will just gather dust.
"They may spend that type of money in other parts of town, but I'm not sure they will over on this side of the river," said Ted Boyle, longtime president of the North Lawrence Improvement Assn. "I know it is a lot of money, but it is stuff that needs to be done."
What seems certain is that much money won't be spent all at once. That would drown the city's stormwater fund, which already is treading water to pay for completed projects in others parts of town.
But city officials said some of the recommendations in the new report by the engineering firm HNTB can be done in phases over many years.
"We have a road map now, and that's important," said Chuck Soules, the city's director of public works. "We can follow the road map if we find some funding. Even if we can't fund the entire list, we can pick our priorities, get the biggest bang for our buck, and make a difference over there."
Boyle said he understood the work would have to be done in phases, but he said he hoped city officials understood that even doing the work in phases would mean a significant commitment to North Lawrence.
"We don't want them to just replace a couple of drain tubes and clean out a few ditches and think they're doing something," Boyle said. "They are going to have to spend some money, and it will be the million dollar type of figures every time they do something over here."
Area residents will have two opportunities next week to learn more about the plan. The North Lawrence Improvement Assn. will host a meeting at 7 p.m. today at Odd Fellows Hall, Sixth and Lincoln streets. The City Commission and the Lawrence-Douglas County Planning Commission will have a joint study session to discuss the report - which cost $282,000 - at 7:30 a.m. Wednesday at City Hall, Sixth and Massachusetts streets.
Recommendations
The report breaks its recommendations into two areas - improvements needed in the existing part of North Lawrence, and improvements needed north of the city limits in areas expected to develop over the coming decades.
The price tag to fix systems in the existing neighborhood is $16.2 million. Improvements needed in the undeveloped portion of the watershed would add an additional $24.8 million.
In the existing neighborhood, the top priority project is a $9 million improvement to a pumping system along North Second Street just north of the Lawrence Visitors Center. The second rated project is a $3.9 million enlargement of the pump station near Fifth and Maple streets.
Soules said even though it is ranked second, that project may rise to the top of the city's list because it could have a large affect on reducing flooding in the residential area around Lyons Park. The city recently bought a home for $138,000 in that area because flood waters were entering the house with increasing frequency.
For projects outside the city, the report recommends significant changes near the Teepee Junction, or the intersection of U.S. Highways 59 and 24/40. The report calls for U.S. 24/40 to be raised several feet to create a makeshift levy for water flowing from the north. The water would be channeled to a new $11 million pump station that would dump the water in the Kansas River east of Lawrence. The new pump station would allow water flowing off newly developed ground to bypass North Lawrence's current stormwater system.
That project could be built in phases, and Soules said developers of the new property could be asked to pay for a portion of the project.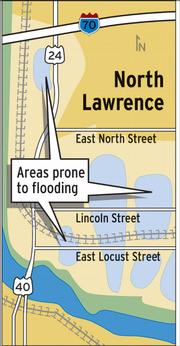 The report also makes recommendations on how new development in the area should occur. The main criteria is that new development shouldn't be allowed to change the current boundaries of the 100-year floodplain. That means there will have to be significant green space in the area, but the plan also said the area could accommodate a large new residential neighborhood. Residential development, though, should be about half as dense as in other parts of the city, the report said. The area also would be able to accommodate three new commercial areas, along with new industrial areas near the Lawrence Municipal Airport.
Paying the bill
Boyle said he's largely satisfied with the report's recommendations. He said making sure the city undertakes them in proper order is most important to him.
"The established residents should be taken care of first," Boyle said. "There haven't been significant improvements to parts of this system for 50 to 60 years."
How the city chooses to fund the plan also is a major issue North Lawrence residents will be watching. Boyle said he would oppose any efforts to create a special North Lawrence tax to fund the projects. He noted many of the houses in North Lawrence have been there since the late 1800s.
"We've been paying taxes over here for a long time," Boyle said. "Now we want something in return for it."
Soules said there won't be any painless funding solutions. He said it would be difficult to rely on the city's existing stormwater fee that is charged to every home and business because those dollars have been spoken for to pay off bonds that were used to fund previous projects. He said the stormwater fee money will be tied up in bond payments and maintenance operations for several more years.
"This is a utility we're operating," Soules said of the city's stormwater division. "When you have needs for a utility, oftentimes what you do is look at a rate increase."
City commissioners aren't yet ready to say that is where this issue is headed. City Commissioner David Schauner said city leaders first need to become more familiar with the recommendations.
"The price tag is a scary number, but it doesn't scare me away from wanting to make improvements," Schauner said. "We need to have a plan and figure out how to get the best bang for our buck. I know it is one of those things that we have been putting off for a long time."
Copyright 2018 The Lawrence Journal-World. All rights reserved. This material may not be published, broadcast, rewritten or redistributed. We strive to uphold our values for every story published.