AUBURN HILLS, MICH. — Andrei Kirilenko had 24 points and 11 rebounds, and former Piston Mehmet Okur added 13 points and 17 rebounds as the Utah Jazz beat Detroit for the second time this season, 94-90 in overtime Saturday night.
The victory gave Utah a season-series sweep of Detroit and almost as many wins against the Pistons (2) as the rest of the NBA combined (3). The 26-5 Pistons, losers for just the second time in 13 games, had their 10-game home winning streak snapped.
Chauncey Billups scored 19 of his 24 points after halftime for Detroit, and Richard Hamilton added 18. Ben Wallace had 16 rebounds, but just four points.
Rookie Deron Williams had 14 points for Utah off the bench.
Cavaliers 96, Bucks 88
Cleveland - LeBron James scored 35 points and shook off the effects of a hard fall as Cleveland rebounded from an awful loss by beating Milwaukee.
James landed with a thud under the basket on a drive late in the third quarter, but after having his left thigh treated by Cleveland's trainers, the third-year star led a fourth-quarter push that gave the Cavs their ninth victory in 11 games.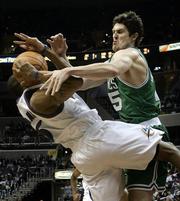 Michael Redd scored 30 points to pace the Bucks, who have lost three straight for the first time this season.
Wizards 103, Celtics 102
Washington - Gilbert Arenas scored 31, including two free throws with 3.5 seconds remaining, and Washington beat Boston to snap a four-game losing streak.
Antawn Jamison added 24 points and eight rebounds for the Wizards.
Ricky Davis scored 24 points to lead the Celtics.
Hawks 101, Hornets 93
Atlanta - Al Harrington scored 24, and Atlanta withstood a career-high 29 points from Speedy Claxton to end New Orleans' three-game winning streak.
Joe Johnson added 20 points for Atlanta and hit a key three-pointer to help turn back the Hornets' comeback attempt.
Magic 108, Bobcats 92
Orlando, Fla. - Dwight Howard had 19 points and 12 rebounds, and Orlando took advantage of the injury-riddled Charlotte frontcourt.
Tony Battie added 16 points as Orlando broke a three-game losing streak.
Reserve Keith Bogans scored a season-high 22 points for Charlotte.
Bulls 111, Grizzlies 82
Chicago - Kirk Hinrich scored 26 points, and Ben Gordon had 21 as Chicago shot 62 percent and ended Memphis' five-game winning streak.
Antonio Burks scored a career-high 18 points, and Pau Gasol had 15 for the Grizzlies.
Chicago finished 11-of-15 on three-pointers. Andres Nocioni added 16 points for the Bulls.
Mavericks 83, Timberwolves 79
Dallas - Dirk Nowitzki overcame 3 1â2 quarters of being pestered by Kevin Garnett to score seven straight points in the closing minutes, helping Dallas rally.
Nowitzki scored 13 of his 26 points in the fourth quarter, most coming during a 14-3 run during the last 3:04.
Garnett had 26 points and 11 rebounds, and Wally Szczerbiak added 25 and 10.
Suns 91, Spurs 86
Phoenix - Shawn Marion and Steve Nash triggered a fourth-quarter surge that lifted Phoenix over San Antonio, snapping the Spurs' five-game winning streak in a matchup of division leaders.
Marion scored 11 in the fourth quarter to finish with 20 points and 10 rebounds. Nash scored 10 in the fourth and had 22 points and 10 assists in the Suns' seventh victory in eight games.
Tim Duncan had 19 points and 12 rebounds for the Spurs.
Lakers 112, Clippers 109
Los Angeles - Kobe Bryant scored 50 points and made a fadeaway jumper in the lane with 12 seconds remaining to lead the Lakers over the Clippers.
Elton Brand's eight-foot turnaround jumper seconds earlier had given the Clippers a one-point lead.
Cuttino Mobley scored 36 points for the Clippers.
Copyright 2018 The Associated Press. All rights reserved. This material may not be published, broadcast, rewritten or redistributed. We strive to uphold our values for every story published.