By Saturday afternoon, the whole back of the black pickup was slopped full of flathead catfish.
And not just any catfish, either. These suckers were big.
"There's gonna be a fish fry tonight," Dan Dempin said, looking over the haul with his fishing buddy, Greg Wessling. With three fish over 40 pounds, there might be a few fish fries on the horizon, Dempin said.
Saturday was day one of the Douglas County State Fishing Lake's public fish salvage - a time for local fishermen to stock up on any fish left in the recently drained lake.
Which was, at this point, a pond. And if you could handle the inescapable mud and muck of the lake's bed, plenty of critters remained in the shallow water for salvagers to fish out by whatever means allowed.
According to state rules, this included netting, handfishing, snagging - everything except trotlines and shooting handguns at them, it seemed.
Photo Gallery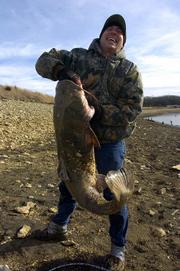 Fish no small matter at lake
The salvage will continue through Jan. 15.
Down about 15 feet below the lake's natural shore, Gene Roberts ate a ham sandwich while he told some buddies about a boat that capsized early Saturday.
Two guys in a little john-boat, Roberts said. One got a cat on a drifting line; then, when he was trying to reel it in, the big fish just turned on him.
"Then, boom," Roberts yelled, smacking his hands together. "It just turned up right like that."
Another boat capsized earlier as well, but from all accounts, everyone was fine and ready to get back to fishing less than an hour later.
From high on the rocky shoreline, Joe Born and a friend watched the action all afternoon. Born had binoculars and cameras, and crept up to the new shoreline when two guys pulled a couple of 30-pounders up from the muck.
"Check these guys out," he said, pointing at the fish squirming in the dirt. His friend came over and snapped some shots on a disposable camera.
Everyone seemed to be impressed at the size of these things. Back up at the black truck, kids jumped around the bed with the fish, which, in a few cases, were bigger than they were.
Wessling leaned against the truck bed, looking in.
"I'll never catch three fish this size again," he said. He hopped in the bed and picked the two biggest ones up, grabbing the catfish underneath their wide jaws.
Passersby looked on, amazed.
For Wessling and Dempin, it was time to head back and clean the mud off of their catch. But one final task remained.
Wessling looked around for help, spotting two mudless civilians - reporter-types, probably - who were just standing around.
"All right," Wessling said. "Now you guys can come help us clean out the boat."
Copyright 2018 The Lawrence Journal-World. All rights reserved. This material may not be published, broadcast, rewritten or redistributed. We strive to uphold our values for every story published.