Mike Jacob knows enough to know that he doesn't know enough about high-definition televisions to set one up himself.
He's in the minority.
Surveys show that most people who buy HDTVs these days aren't equipped - both literally and figuratively - to properly set up the expensive sets in their living rooms, offices or well-appointed home theaters.
Jacob, who's been longing for an HDTV set for more than a year now, plans to keep his relative ignorance from getting in the way of a good show.
"That's why you pay guys to come in and set it up," Jacob said Thursday, gazing at the crisp images on a 61-inch Pioneer HDTV. "You get it done right."
The days of simply buying a TV, tearing away the box and plugging it into the wall are gone, said Paul Erickson, a market analyst for IMS Research, which studies trends in HDTVs and other broadband technologies.
As manufacturers scramble to fill a market that this year promises to ship 20.6 million HDTV screens worldwide, a wide array of technologies are stymieing consumers, Erickson said. More manufacturers are required by government regulations to make ready-to-go HDTVs, but HDTV likely won't be government standard until 2009.
Caught in the middle are consumers who find that they may need to find a special set-top box, or buy an HD card, or use specialized cables or even order dedicated HD services to make their sets live up to their promise. Retailers report that return rates for HDTVs are higher than for analog sets, given their price and unmet expectations.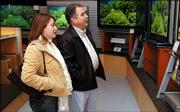 "Right now, because it's in transition, there's chaos," Erickson said. "It will get better. Variables will be taken out, and then you'll buy your TV, get standard TV and eventually it will (all) be HD. : It'll become more dummy proof, if you will."
Until then, though, consumers would do well to keep a few things in mind as they consider stepping up to HDTV, said Dave Nigro, an audio/video consultant at Kief's Audio/Video, 2429 Iowa:
¢ Balance needs, wants and budget. HDTVs can sell from $600 to $8,800 or more, and come in a variety of formats, such as plasma, rear-projection and others.
¢ Choose between "HD ready" and "integrated HD." The first means you'll need a set-top box from your cable or satellite provider, so that you can receive high-definition signals. An "integrated" set has a built-in tuner, but may require an HD card to be plugged into the back, much like a memory card for a computer.
¢ Order service. Check with your cable or satellite provider to be sure you're receiving HD service.
¢ Get connected. Consumers should plan on dedicating 5 percent to 10 percent of their total budget for proper component video and audio cables. And don't skimp, unless you're comfortable missing out on the best signals or amplifying systematic imperfections. "Cables can't make things better, but they can make things worse," Nigro said. "You're not going to buy a Ferrari and put 87 octane in it. You want to have something appropriate."
Copyright 2018 The Lawrence Journal-World. All rights reserved. This material may not be published, broadcast, rewritten or redistributed. We strive to uphold our values for every story published.