If nothing else, it's cool to see a fire engine that looks like it should be in a cartoon.
The 1917 American LaFrance ladder truck - the first ladder truck the city of Lawrence ever owned - fits that bill.
"It's the type of truck that you have a guy driving in the front and a guy driving in the back," said Harold Mallonee, a retired Lawrence firefighter who also served as the department's historian. "It's like the ones you saw in the old comedies where they would come around the corner and wipe out all the cars."
Good luck seeing this truck, though. The Lawrence fire engine for decades was on display as a piece of playground equipment in South Park. But for the last decade it slowly has been rusting away in a city maintenance yard.
Mallonee and some other retired firefighters would like to see that change. Recently retired fire chief Jim McSwain said he would like for the truck to be restored and used as a display in a local fire museum that he hopes will become a reality someday at the small, 88-year-old decommissioned fire station near 19th and Massachusetts streets.
"It is absolutely a neat piece of our history," McSwain said.
John Kasberger knows the old truck would generate some good stories. Kasberger, who was Lawrence's fire chief during part of the 1970s, drove the back end of the truck as a young firefighter in 1945.
"It was power steering. It took all the power you had," Kasberger said of the truck, which last did service in 1946.
Photo Gallery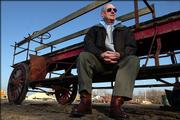 1917 American LaFrance ladder truck
Kasberger also remembers how a firefighter would have to start the truck with a hand crank, and how the shift commander each night would light two red kerosene lanterns and hang them off the back of the truck in case it was needed for a nighttime fire call.
"They were our taillights," Kasberger said. "That's how old that truck is."
Back to life?
Whether the truck can be brought back to life is an open question. Until Thursday, firefighters hadn't seen the truck for years. The truck, which is missing its 65-foot ladder that was controlled by a hand crank, doesn't run. And rust has taken a toll, though much of the truck is iron that is still strong.
If a group decides to tackle the project, it only will have to look as far as Topeka to see how it is done. The Topeka Fire Department restored a 1927 American LaFrance ladder truck - nearly identical to the Lawrence truck - several years ago. It also had been used as a piece of playground equipment for more than 20 years, but now the fully restored fire truck is used in five to six parades a year and at other special events.
"You would be surprised at how many people remember it from its days in the park," said Topeka fire Capt. Todd Williams. "People just love it."
Williams said he remembered seeing Lawrence's truck in South Park before it was removed in the mid-1990s because of safety concerns. He estimated it would cost at least $30,000 to restore the truck and get it running again.
A more feasible option might be to restore the body of the truck but not the mechanical systems, which would allow the truck to be put on display but not driven.
Fire safety, history
Though restoring the truck would be expensive, Williams said it could serve an important purpose.
"I think it is one of the best ways to get a little kid's attention, and then while you have them, you can teach them a little fire safety along the way," Williams said.
Fred DeVictor, director of Lawrence's Parks and Recreation Department, said the city didn't have plans for the truck but had kept it because it was a unique part of the city's history.
Mallonee in 1996 unsuccessfully tried to reach a deal with the city to restore the truck to drive in parades in exchange for ownership of the antique.
McSwain said he hoped the community someday would want to more fully celebrate the city's fire history and that the truck could be part of it.
City commissioners are accepting proposals through Feb. 17 on how to use the old fire station near 19th and Massachusetts streets after the city's newest fire station opens this summer at 19th and Iowa streets. McSwain said he might submit a proposal for a fire and medical museum at the old fire station.
"The fire and medical system is really a backbone of every city," McSwain said. "For the first 75 years in this town, all the firefighters were volunteers. They didn't do it for the money. They just did it to help the community. That is a big deal and it is worth celebrating."
Copyright 2017 The Lawrence Journal-World. All rights reserved. This material may not be published, broadcast, rewritten or redistributed. We strive to uphold our values for every story published.