Kansas City, Mo. — David Wittig, the former Westar Energy Inc. chief executive convicted of looting the utility, will not have to give up his Topeka mansion or hundreds of thousands of dollars in art and furnishings prosecutors say he bought with ill-gotten gains, a federal judge has ruled.
In a ruling filed Tuesday, U.S. District Judge Julie Robinson upheld the majority of a Kansas City, Kan., jury's decision in September requiring Wittig and his co-defendant, former chief strategy officer Douglas Lake, to forfeit millions of dollars in stock, insurance payments, incentive bonuses and other assets tied to their crimes.
But Robinson said that the government failed to provide a direct connection between Wittig's schemes to defraud the Topeka-based company and his purchase of the historic Alf Landon Mansion, as well as a long list of household items, including $282,500 in audio/video equipment and a $15,000 pool table.
Instead, Robinson said Wittig will have to forfeit $4 million - the value of renovations Wittig made to the mansion with a line of credit that used Westar stock and other collateral tied to Wittig's fraud. The house itself has been appraised at less than $2 million.
Photo Gallery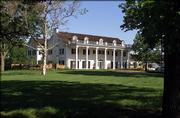 Wittig House
In 2002, the Lawrence Journal-World was given a glimpse into David Wittig's renovation of the former Alf Landon mansion.
Wittig and Lake were found guilty Sept. 12 of conspiracy, wire fraud, money laundering and circumventing internal controls during their tenures at Westar, the largest electric utility in Kansas. Sentencing is scheduled for April 3.
Prosecutors claimed that Wittig poured $6.5 million into the mansion, hoping to recoup the money through a provision in his employment agreement with Westar that required the company to buy the mansion, including the value of all renovations plus 17 percent, in the event the utility was sold.
Wittig and Lake were behind an effort to sell Westar's electric business to a New Mexico utility and spin off its unregulated subsidiaries to a separate company that they would run. Westar's board of directors didn't know the extent to which the sale would benefit the two men, prosecutors said.
The Kansas Corporation Commission ultimately shot down the deal.
Wittig argued that because the buyback provision was never triggered by a sale of Westar, he never committed a crime and shouldn't have to give up his house and property.
But Robinson disagreed, saying, "that the change in control never materialized does not alter the fact that proceeds traceable to the scheme to defraud were used to renovate the Landon Mansion."
Jeff Morris, one of Wittig's defense attorneys, said Wittig is appealing the forfeitures but was pleased that Robinson agreed that prosecutors hadn't proven their point as to the mansion and the furnishings.
"Her ruling tracks what we said to the jury about the lack of the government's evidence and the weaknesses in the government's theory," Morris said.
The U.S. Attorney's Office declined to comment on Robinson's decision.
Robinson also upheld that Wittig will still have to forfeit $17,460 in the value of a 2001 Ferrari and any award he receives from an ongoing arbitration case he and Lake have with Westar over millions of dollars in salary and benefits the two men say the company still owes them.
She also approved an agreement allowing Wittig and his family to remain in the mansion pending appeals.
Morris, who also serves as attorney for Wittig's wife, Beth, said that with the forfeiture now decided she will likely file papers to protect assets that are in her name as well as that of her husband.
Robinson will also hear arguments Friday from prosecutors that Wittig has violated the terms of his release pending appeal and should be put back in jail.
Copyright 2018 The Associated Press. All rights reserved. This material may not be published, broadcast, rewritten or redistributed. We strive to uphold our values for every story published.