Pasadena, Calif. — Finally, Texas' lone star shined brighter than all the glitter and glamour Southern California could muster.
Vince Young, back in the Rose Bowl and at his best, lifted the Longhorns to a 41-38 Rose Bowl victory over top-ranked Southern California with his eight-yard touchdown run on fourth down with 19 seconds left.
The victory brought the Longhorns their first outright national championship since 1969.
Young came to California hoping to prove he was the best player in the country after his bitter disappointment at finishing second to USC running back Reggie Bush this year for the Heisman Trophy, which Trojans quarterback Matt Leinart won the year before.
By running and passing his way through another spectacular Rose Bowl performance, the Longhorns quarterback finally relegated the Heisman twins to supporting roles.
This was, without a doubt, Young's show: He ran for 200 yards and passed for another 267 in a game that surpassed his 372-yard, five touchdown effort against Michigan here last year, and became the first player in NCAA history to rush for 1,000 yards and pass for 2,500 in a season.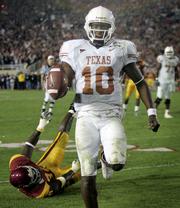 Before the game, Young went through his usual routine, listening to music on his iPod while tossing passes to his receivers and hamming it up with thousands of Texas fans who came to the game early.
By kickoff, he was reaching for what he calls his "Jordan Mode" - the zone where he feels he can make any play at any time. It worked to perfection on Texas' first touchdown when Young snuck one past the USC defense and the replay officials.
Young broke through the left side of the line and pitched the ball to tailback Selvin Young, who slipped through three tacklers to get into the end zone. The quarterback was being tackled when he tossed it, and television replays showed his knee was down before the ball left his hands. Game officials did not review the play.
By the second quarter, he was still dancing on the field, pantomiming riding down the field on a horse during a timeout. On one play, Young slipped through the tackle of blitzing USC safety Brandon Ting for a short pass, then turned and shook Ting's hand as if to say "I'll be here all night."
Young scored his first touchdown when he capped a seven-play, 80-yard drive in the third with a stiff-arm of a Trojan defender before diving for the end-zone pylon to give the Longhorns a 23-17 lead. He then flashed a "Hook'em Horns" sign to the crowd.
His second touchdown, a 17-yard run in the fourth, started when he dropped back to pass, then used a burst of speed to run through the middle of the defense.
Copyright 2018 The Associated Press. All rights reserved. This material may not be published, broadcast, rewritten or redistributed. We strive to uphold our values for every story published.