Chicago — Rashard Lewis scored 21 points and Luke Ridnour hit two free throws with three seconds left to lead Seattle to a 101-97 victory over the Chicago Bulls on Wednesday night in Bob Hill's debut as the SuperSonics head coach.
Ben Gordon hit a three-pointer with 33.4 seconds left to pull the Bulls to within 99-97. After a jump ball, Gordon stepped out of bounds near the Bulls bench, giving Seattle possession.
Ridnour (15 points) then hit the free throws, sending the Bulls to their eighth straight loss.
Lewis hit 6 of 14 shots and 8 of 11 free throws as the Sonics won for the third time in eight games.
Ray Allen scored 20 points, 17 in the first half, but left the game after being elbowed in the right eye by Chicago's Kirk Hinrich early in the fourth quarter. Vladimir Radmanovic scored 14 points - 11 in the second half - in his first start this season.
Gordon led the Bulls with 21 points, Darius Songaila scored 20 and Hinrich added 16.
A day after firing Bob Weiss and promoting Hill from assistant coach, the Sonics showed some spark through the first 2 1â2 quarters. Then, they hung on.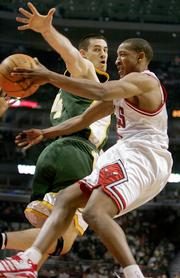 The Sonics saw a 14-point third-quarter lead dwindle in the fourth.
After a jumper by Songaila made it 89-86 with just under four minutes left, Seattle's Ronald Murray responded with two baskets to make it a seven-point game. But the Bulls weren't finished.
The Sonics exposed mismatches through the first 21â2 quarters, with the 6-foot-10 Lewis taking advantage of the 6-1 Chris Duhon. And their lead was 62-48 after Johan Petro's rebound dunk with 7:47 left in the third quarter.
A Seattle team that had high expectations after winning 52 games and the Northwest Division last season was 13-17 and had lost five of seven entering Wednesday's game, leading to the coaching change.
Raptors 121, Magic 97
Toronto - Rookie Charlie Villanueva scored 24 points and Toronto shot a franchise-record 63 percent from the field.
The Raptors (10-22) tied a season-high in points and outrebounded the Magic.
Jameer Nelson had a career-high 31 points for the Magic.
Celtics 109, Bobcats 106
Boston - Paul Pierce had 31 points, 10 assists and eight rebounds. He scored 12 consecutive points for the Celtics during a 4:42 stretch late in the second quarter, including eight straight overall as the Celtics turned a one-point advantage into a 58-49 lead.
Orien Greene's driving layup with 57.5 seconds left in the fourth quarter broke a 102-102 tie and gave the Celtics the lead for good. Bernard Robinson missed a potential game-tying three-pointer at the buzzer.
Cavaliers 91, Bucks 84
Milwaukee - LeBron James scored 17 of his 32 points in the fourth quarter, and Drew Gooden added 18 for the game to help the Cavaliers snap a seven-game losing streak in Milwaukee.
Michael Redd led the Bucks with 28 points and Bobby Simmons added 18. Jamaal Magloire had 13 points and 12 rebounds. However, the Bucks bench went scoreless.
T'wolves 91, Mavericks 78
Minneapolis - The Timberwolves, who won for only the third time in their last 11 games, were paced by Kevin Garnett's 23 points, 10 rebounds and five assists. Marko Jaric scored 22.
Jaric and defensive stalwart Trenton Hassell (14 points) were the catalysts for a team that has been starving for scoring.
Dirk Nowitzki had 23 points for the Mavericks, who were held to a season-low in scoring.
Hornets 107, Heat 92
Oklahoma City - Desmond Mason scored 24 points and New Orleans overcame Dwyane Wade's second career triple-double.
Wade, who had a triple-
double on Dec. 30, 2004 against Detroit, had 19 points, 10 rebounds and 10 assists to become the first Heat player to accomplish the feat twice. Shaquille O'Neal also scored 19 and Jason Williams added 15 points on five three-pointers.
Spurs 106, Trail Blazers 75
San Antonio - Tim Duncan and Tony Parker each scored 18 points and the Spurs held Portland to three field goals in the fourth quarter.
San Antonio limited Portland to 9-for-32 (28 percent) shooting in the second half and the Spurs had 57 rebounds, including 20 on the offensive end. The Spurs outscored the Blazers, 28-11, in the dominant final quarter.
San Antonio's defense limited Zach Randolph, Portland's top scorer at 18.5 ppg, to just five on 1-for-14 shooting.
Jarrett Jack's 15 points led Portland.
Suns 105, 76ers 85
Phoenix - Steve Nash scored 24 points and sat out the fourth quarter. Reserves James Jones and Eddie House scored 19 and 18 points, respectively. Shawn Marion added 13 points and 13 rebounds.
Samuel Dalembert grabbed a career-high 22 rebounds for Philadelphia, which played without Chris Weber for the first time this season. Allen Iverson scored 16 on 7-for-23 shooting and left the game for good late in the third quarter.
Nuggets 106, Pacers 86
Denver - Earl Boykins and Carmelo Anthony each scored 23 points for Denver. Boykins scored 12 in a 13-2 run that gave the Nuggets a 47-34 lead in the second quarter. His best play, though, came on an alley-oop to fellow guard Earl Watson for a jam that put Denver ahead 86-70 in the fourth quarter when the Nuggets used a four-guard lineup to outrun the Pacers.
Copyright 2018 The Associated Press. All rights reserved. This material may not be published, broadcast, rewritten or redistributed. We strive to uphold our values for every story published.