Beverly Hills, Calif. — Anticipated all season, set up with matching blowouts and relentlessly hyped for the last month, the Rose Bowl everyone's been waiting for finally is here.
No. 1 USC against No. 2 Texas, with their perfect records, potent offenses, glittery stars, rich tradition and eye-popping pageantry - playing for the national championship tonight in Pasadena.
The game of the year! The game of the century! The game of all time!
Or just another day at work for two-time defending champ USC?
"This is what we have really prepared to do and hopefully built ourselves toward this," USC coach Pete Carroll said Tuesday. "You can't get a big enough game for us."
Heisman Trophy winners Matt Leinart and Reggie Bush have led the Trojans to 34 straight victories. Against Texas, they'll become the first Heisman duo to play together in a college game as USC goes for a record third consecutive national title.
The Longhorns also are 12-0, and they've won 19 in a row. Heisman runner-up Vince Young is a dynamic dual threat who leads an offense that has more than matched USC touchdown for touchdown.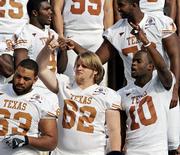 Texas puts up 51 points per game, USC 50. The Trojans are favored by a TD.
"We don't have to be the best team of all time, just tomorrow night," Texas coach Mack Brown said.
It's already the best game Bowl Championship Series officials could have imagined in their eight-year history. No doubts about who belongs this season.
Plus, the weather apparently will cooperate. After storms soaked the area earlier this week, clear skies are in the forecast.
Everything, it seems, is set.
"These two teams have been talked about every day for a month," Brown said. "Good teams enjoy the hype."
Young returns to the site of his breakout performance.
The 230-pound quarterback with sprinter's speed made last year's Rose Bowl look like a pickup game, running for 192 yards and four touchdowns to beat Michigan, 38-37.
Young brought a new dimension to Texas. The guy many thought never would complete enough passes to lead a team to a championship threw for 2,769 yards and 26 touchdowns this season.
"There's nobody like this," Carroll said. "There's guys that can run, there's guys that throw, there's quick guys and all that, but nobody's ever been this fast."
The Longhorns began the season ranked No. 2 in the country behind USC - and that's the way it stayed as each team stormed through unbeaten seasons.
Young was brilliant, but not good enough to keep Bush from sprinting away with the Heisman. Bush ran for 1,658 yards - 8.9 per carry - hurdling a few tacklers along the way.
USC is the first team with a 3,000-yard passer (Leinart), two 1,000-yard rushers (Bush and LenDale White), and a 1,000-yard receiver (Jarrett).
"Right now we're right where I hoped we were going to be when I made my decision," Leinart said. "But I feel like this has been the best time of my life, these last four or five years, and Wednesday is kind of the culmination."
While USC will be shooting for a three-peat, the Longhorns will be looking to end a long title drought.
Only Michigan and Notre Dame have won more games than Texas. But of the seven winningest schools to play football, none have gone longer than the 'Horns without a national title - their last outright championship was 1969, and they shared the crown in 1970.
"Our plan is to bring this thing back to Texas, where it belongs in the South," running back and Houston native Selvin Young said. "Growing up, I've always been a believer that real football is played in Texas."
Copyright 2018 The Associated Press. All rights reserved. This material may not be published, broadcast, rewritten or redistributed. We strive to uphold our values for every story published.