There's been a shakeup at Goodwill.
The Lawrence store's interim manager is out. A new manager, Samm Lassiter, started late last week.
The change in managers, Goodwill officials acknowledged Tuesday, was in response to recent reports that workers had rejected donations because the store's back room was full.
The reports were the subject of a story in Saturday's Journal-World.
"I read the story online. I saw the reader responses, too," said Tom Dooley, vice president in charge of marketing at Helping Hands of Goodwill regional office in Kansas City, Mo.
"I found them rather disturbing," Dooley said, noting that after the story appeared, he received "several phone calls that were similar to the reader responses."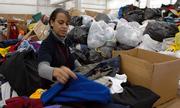 The responses included accounts of donors being turned away, rude treatment and unopened bags of clothing being tossed in a nearby Dumpster.
Dooley said he and others at the charity's regional office were unaware of the situation.
"Lawrence is an outlying location for us. It's not a store we visit with much regularity," he said. "But it will be now."
Dooley said plans call for someone from the regional office to visit the Lawrence store, 2200 W. 31st St., two or three times a week.
"Our policy is clear - we accept donations," he said. "We don't turn people away."
Last year, the Lawrence store generated $700,000 in sales.
Helping Hands of Good Will Industries operates thrift stores in Kansas and Missouri, helping and employing people who are homeless, unemployed or disabled. The stores sell secondhand clothing, housewares, furniture, books, CDs, tapes and records.
Clothing sales account for about half of each store's revenue.
Dooley said damp clothing could not be sold and would be thrown away. Stained or torn clothing will be sold for rags.
Lassiter, who recently completed a training program for Goodwill managers, says she is ready to put the incident behind her.
"I am the general manager now. We have a mission; all we can do is go forward and get it done," said Lassiter, a Lawrence native and a U.S. Marine Corps veteran.
Dooley denied a reader's allegation that Goodwill raised its prices in response to the Salvation Army thrift shop's closing in July 2005.
"We raised our prices 6 1/2 percent on Sept. 1," Dooley said. "But it wasn't just in Lawrence, it was across the entire region."
Several readers urged would-be donors to take their goods to Penn House, 1035 Pa., where they are given away rather than sold.
"We take anything that's usable. It's all free," said Linda Lassen, director of human resources at Penn House.
"There are times we have to turn people away because we get so full," she said, "but it's usually just for a day or two."
Copyright 2017 The Lawrence Journal-World. All rights reserved. This material may not be published, broadcast, rewritten or redistributed. We strive to uphold our values for every story published.