A faulty valve in a major water pipeline between Lawrence and areas to the south stuck closed over the weekend, draining the water supply in Baldwin and Wellsville.
The valve, near the Lawrence/Baldwin connection at 31st Street and Haskell Avenue, became stuck over the holiday weekend without notice. In the meantime, Baldwin drained the water from its reserve towers before a meter signaled a problem Sunday, City Administrator Jeff Dingman said.
"All of the water we used (during the weekend) was from water towers," Dingman said. "We have to let them fill back up."
The city's public works crew fixed the valve around 4 p.m. Tuesday. The towers will refill overnight, Dingman said.
Dingman expected that water pressure would be down in the cities overnight, causing water to trickle into homes and businesses, if it works at all.
The pipeline sends water from a pump station in Lawrence to cities to the south. The water passes through the Baldwin reserve tank before traveling to Wellsville.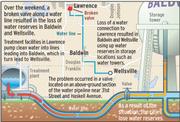 Early Tuesday afternoon, before the city fixed the valve, retailers around Baldwin reported little or no water running in their stores, a city news release said.
When officials in Wellsville found out about the faulty valve on Tuesday, they put out a series of calls to local businesses, telling them that water might be out overnight.
Janet Sessions, the city's utility clerk, said that she called nursing homes and other similar facilities first. Other residents, especially those who work out of town, didn't find out until they got home Tuesday evening.
"It's kind of a bad deal," Sessions said.
But Tuesday night, the deal wasn't that bad for residents, at least those the Journal-World spoke to. Since the valve was repaired, all major water shortages seemed to be averted.
"Everything seems fine down here," Wellsville resident David Rogers said.
Rogers heard that the water would be out - he and his family stocked about 15 gallons just in case - but around 7:30 p.m. Tuesday, faucets were flowing liberally.
Still, people took plenty of precautions when they heard of the problem. Wellsville High School canceled its boys and girls basketball games against De Soto, saying that they would be rescheduled at a later date.
Boil order
When a boil order is in effect, according to the Kansas Department of Health and Environment: ¢ Bring all water used for drinking, cooking or ice cubes to a vigorous boil before using. ¢ Disinfect dishes and other food contact surfaces by immersing them in tap water with one teaspoon of unscented bleach per gallon of water. ¢ Children should be monitored when bathing to ensure they don't ingest water.
Baldwin and the state Department of Health and Environment also took precautions, asking residents to boil all water they planned to use for cooking, cleaning and drinking for at least two days.
With water pressure so low, bacteria could have sneaked into the system, Dingman said. The state will test the water for bacteria levels before the boil order is lifted.
For some, the boil order was for naught. Robert Stewart, who works nights and spends his days sleeping at his Baldwin home, found out about the order only after a long shower.
"Oh, lovely," Stewart said.
Rebecca Henderson found out about the city's water problems from a Web site. Tuesday night, her Baldwin home had plenty of water and pressure, but she said that she had been boiling her water.
At the Henderson home, water issues seemed to be going fine. But even if they weren't, she said, life in Baldwin would go on.
"In the grand scheme of things, having to deal with no water for a day is not that big of a deal," she said.
Copyright 2018 The Lawrence Journal-World. All rights reserved. This material may not be published, broadcast, rewritten or redistributed. We strive to uphold our values for every story published.