Marcus Heckman understands the desire to spend time with family during the holidays.
He also knows what kind of strain it can put on coaching a basketball team.
Those two worlds collided in unsuccessful fashion for the Seabury Academy boys Tuesday night. Heckman sat some of his usual starters - two for a quarter, one for the entire first half. As a result, the Seahawks fell behind early and never recovered, falling to Crest, 51-33, on their home floor.
"They missed practice last week, and for valid reasons," Heckman said. "But you play like you practice, and if you don't practice, you don't play.
"I had five kids who were here for practice all week, and I wanted to reward them."
Unfortunately for Seabury (3-3), that reward came with a cost. Crest (2-5) ran off eight straight points to open the game, held a 14-4 lead after the first quarter and pushed it to a 12-point margin at the half.
Photo Gallery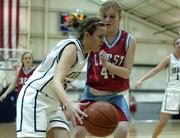 Seabury vs. Crest 01-03-05
The Seahawks fought back to within six early in the fourth quarter before allowing the Lancers to salt away the victory.
"We weren't disciplined enough to continue attacking the rim. We settled for outside shots and they weren't going in," Heckman said. "The numbers don't lie - we have not shot the ball well from 20 feet all year."
Adam Davis led Seabury with 10 points. Kevin Ray scored a game-high 16 for Crest.
The holiday layoff didn't bode well for the Seabury girls, either.
They also fell in an early eight-point hole, crawled back within a bucket, then watched Crest rattle off a 22-4 run bridging the second and third quarters to set the table for a 41-26 victory.
"It's a tough game to come back and play," said Seahawks coach Nick Taylor who, like Heckman, had a tough time turning out bodies at practice. "Crest is a very good team. It's one of those things where you've got to take care of all the little things to beat them.
"It was just a tough night all the way around."
So tough that Seabury (4-2) threatened to finish below the 20-point barrier before a 12-point barrage spanning four minutes of the fourth quarter.
"We finally got something accomplished," Taylor said. "It was one of those things that, finally ... we were running an offense."
Lindsey Ahlen led the Seahawks with 10 points. Rae Westerman paced Crest (4-3) with 12.
Both Seabury squads return to action Friday at Flint Hills Christian in Manhattan.
Copyright 2018 The Lawrence Journal-World. All rights reserved. This material may not be published, broadcast, rewritten or redistributed. We strive to uphold our values for every story published.