Construction work on the Kansas Turnpike between Topeka and Lawrence is causing eastbound lane changes this week.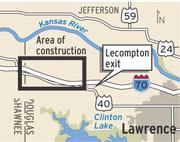 Traffic will be shifted to the outside lanes on the eastbound side starting at milepost 189, which is 5 miles east of Topeka's Kansas Highway 4 interchange, to 2 miles west of the Lecompton interchange at milepost 195.
To prepare for the lane changes, eastbound traffic Tuesday was restricted to one lane between mileposts 193 and 195 but should be open for two-lane traffic by the weekend.
Construction phasing and traffic changes will continue until the completion of the widening project in mid-2007. Drivers on the turnpike can get the latest information about road construction on the radio at 1610 AM or online at www.wideride.com.
Copyright 2018 The Lawrence Journal-World. All rights reserved. This material may not be published, broadcast, rewritten or redistributed. We strive to uphold our values for every story published.