Philadelphia — Going back to the basics put Joe Gibbs and the Washington Redskins back in the playoffs.
Clinton Portis ran for 112 yards and two touchdowns, leading the Redskins to a 31-20 victory over the woeful Philadelphia Eagles on Sunday.
Washington (10-6) clinched the NFL's final playoff spot and its first postseason berth since 1999 with its fifth straight victory, which also eliminated Dallas from contention.
"Looking back to 5-6, we talked at that time that if we lost another game, we'd be out," Gibbs said. "Trying to win five straight is a tough deal, but our guys seemed to understand what it would take. We went back to the basics."
The Redskins play Tampa Bay (11-5) in an NFC wild-card game Saturday in their first playoff game since losing 14-13 to the Buccaneers in a second-round matchup six years ago.
Just as it did against the Eagles, Washington relied heavily on its running game behind Portis and a strong defense to turn things around after losing three straight to fall to 5-6.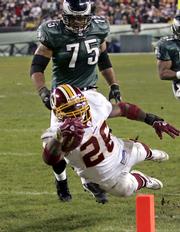 Mike McMahon threw two touchdown passes to Reggie Brown as Philadelphia (6-10) completed its first losing season since 1999 after reaching the Super Bowl last February.
"We'll go back through and look at all of it," coach Andy Reid said. "We've got to look at ourselves first, if we're putting guys in the right position to make plays, and did they make the plays."
For the depleted Eagles, it was a fitting end to a miserable season. With McNabb and several other key starters sidelined by injuries and Terrell Owens banished from the team, Philadelphia was undermanned and overmatched.
Only 10 players who started in the Eagles' 24-21 loss to New England in the Super Bowl were on the field Sunday.
"If you give me everybody we had, everybody stays healthy, none of the stuff goes on, we're talking about a different situation right now," safety Brian Dawkins said.
Portis broke Stephen Davis' franchise rushing record of 1,432 yards set in 2001, and Santana Moss topped Bobby Mitchell's 42-year-old receiving mark of 1,436 yards.
Packers 23, Seahawks 17
Green Bay, Wis. - Facing an uncertain future, Lambeau Field fans were pleading for more Brett Favre magic. The quarterback obliged by throwing his first touchdown pass in five games.
But in what might be the final game of Favre's career, Favre's former coach allowed running back Shaun Alexander to steal the show and set an NFL record for touchdowns in a season with 28.
Alexander also surpassed the New York Giants' Tiki Barber for the league rushing lead.
Jets 30, Bills 26
East Rutherford, N.J. - Justin Miller returned a kickoff 95 yards for a touchdown with 5:58 remaining, and Ty Law had three interceptions.
After Buffalo went ahead on Rian Lindell's 36-yard field goal, Miller took the ensuing kickoff and tiptoed down the sideline, finally providing the special-teams score the Jets (4-12) lacked all season. Buffalo (5-11) had one final shot with 47 seconds left, but Law intercepted Kelly Holcomb's deep heave.
Dolphins 28, Patriots 26
Foxborough, Mass. - The Patriots sat out their stars with an eye toward the playoffs, andMiami won its sixth straight game, its longest winning streak in 13 seasons.
New England staged a late comeback in which Doug Flutie converted the NFL's first successful drop kick in 64 years. Then backup quarterback Matt Cassel cut the lead to two with a four-yard pass to Benjamin Watson with no time left, but Cassel's pass for a two-point conversion fell incomplete.
Panthers 44, Falcons 11
Atlanta - DeShaun Foster rushed for 165 yards, including the longest scoring run in team history, and Jake Delhomme threw for two touchdowns.
Carolina (11-5) clinched one of the two NFC playoff spots still available going into Week 17, settling for a wild card when Tampa Bay clinched the South Division title.
The Panthers didn't have to work very hard for it against Atlanta, which completed its second-half collapse.
Steelers 35, Lions 21
Pittsburgh - Jerome Bettis made sure that what likely was his final game in Pittsburgh wasn't the Steelers' last game of the season.
Bettis matched his career high with three touchdown runs, none longer than five yards, and the Steelers overcame sloppy defensive play to secure their 10th playoff appearance in 14 seasons under coach Bill Cowher.
Colts 17, Cardinals 13
Indianapolis - Tony Dungy grabbed the game ball in his right hand, raised it and pumped it toward the crowd in relief Sunday. It was a rare emotional outburst for the usually stoic Indianapolis coach.
The Colts' defense had a late goal-line stand after Jim Sorgi threw two touchdown passes three days after Dungy returned to the team following his oldest son's funeral in Tampa.
Indianapolis (14-2) set a single-season franchise record for victories by avoiding its first three-game losing streak since the 2002 season.
Browns 20, Ravens 16
Cleveland - Dennis Northcutt bowed when he reached the end zone, then peeked over his shoulder to make sure he deserved the applause.
Finally, he and the Cleveland Browns could soak it in.
Northcutt's 62-yard punt return for a TD helped the Browns rebound from last week's 41-0 loss against Pittsburgh. Earlier this season, Northcutt twice brought back punts for TDs only to have them nullified by penalties.
Bucs 27, Saints 13
Tampa, Fla. - The Buccaneers weren't content with just making the playoffs.
Joey Galloway caught his ninth and 10th touchdown passes to set a franchise season record, and the Bucs clinched their first NFC South division title in three years and guaranteed themselves a home playoff game.
Jaguars 40, Titans 13
Jacksonville, Fla. - The Jaguars avoided another slow start and gained some much-needed momentum for the postseason.
The Jaguars scored 27 points in the first half and won for their eighth victory in the last nine games.
The Jaguars already had clinched the No. 5 seed in the AFC playoffs. With nothing riding on the outcome, Jags coach Jack Del Rio rested several starters, including quarterback Byron Leftwich and running back Fred Taylor.
49ers 20, Texans 17, OT
San Francisco - San Francisco 49ers salvaged some pride in their miserable season, and the Texans got on the clock for the NFL draft in April.
Mike Adams lateraled his second interception to Ben Emanuel for a 35-yard return in overtime, Joe Nedney kicked a 33-yard field goal with 3:52 left, and the 49ers earned their first consecutive victories in more than two years.
But after one last loss, fans of the Texans (2-14) might have felt like the real winners: Their franchise clinched the top pick in April's NFL Draft.
Vikings 34, Bears 10
Minneapolis - Brad Johnson passed for 247 yards and two touchdowns against the NFC North champion Bears.
Thomas Jones ran 12 times for 62 yards in the first half to finish with 1,335 yards for Chicago (11-5), which used a dominant defense and an eight-game winning streak to take control of the division. Jones' rushing total was the highest for a Bears player other than Walter Payton and the greatest sum since Payton's 1,551 yards in 1985.
The only thing Chicago had to play for was a franchise record for fewest points allowed, 187 set by the 1986 squad. But Johnson, who completed 27 of 40 passes, made sure that didn't happen. The Bears gave up 201 points this season.
Rams 20, Cowboys 10
Irving, Texas - Aveion Cason and Arlen Harris ran for their first touchdowns since 2003, giving Dallas one more disappointment to end the season.
The Rams (6-10) were giving up a league-worst 27.9 points per game, but came away with their stingiest effort of the season. The game was rendered meaningless when Washington won and eliminated Dallas from the wild-card chase more than an hour before kickoff.
Copyright 2018 The Associated Press. All rights reserved. This material may not be published, broadcast, rewritten or redistributed. We strive to uphold our values for every story published.