Guerneville, Calif. — The second major storm in two days washed across Northern California on Sunday, prolonging the threat of flooding as residents tried to clean up thick layers of mud and debris left behind as the first wave of floodwater receded.
Three more inches of rain in the already water-logged region Sunday pushed the Napa River back toward flood stage in the wine country town of St. Helena.
Levees overtopped in the Sacramento-San Joaquin Delta and along the Sacramento River near Collinsville in Solano County. Strong winds had thrashed water over the levee walls, which began cracking under the pressure, said Paula Toynbee, spokeswoman for the Solano County Sheriff's Department.
Hundreds of homes and businesses across the region had been inundated Saturday as heavy rain sent the Napa and Russian rivers spilling over their banks.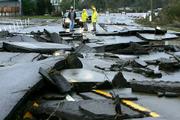 At least 2 more inches of rain was forecast across Northern California on Sunday, on top of the 4 to 9 inches that had already swamped the region, the National Weather Service said.
Wildfire-damaged areas of Southern California also were under a flash flood watch and a threat of mudslides as heavy rain headed in their direction.
Massive mudslides kept road crews busy moving rock and debris that shut down Interstate 80 through the Sierra Nevada and other roads across the region.
Showers threaten parade streak
If rain falls in Pasadena, Calif., as predicted, it will mark the first time in 51 years that the bands and elaborate flower-encrusted floats in the Rose Parade get drenched. In the parade's 116-year history, there have been only nine rainy days.
Copyright 2018 The Associated Press. All rights reserved. This material may not be published, broadcast, rewritten or redistributed. We strive to uphold our values for every story published.